SCI Convention
Sables Luncheon

Sables Mission
To further the understanding of our outdoor heritage, including the positive role of hunting, through the creating and support of wildlife and conservation educational programs that are consistent with the educational mission and purposes of SCI and SCI Foundation.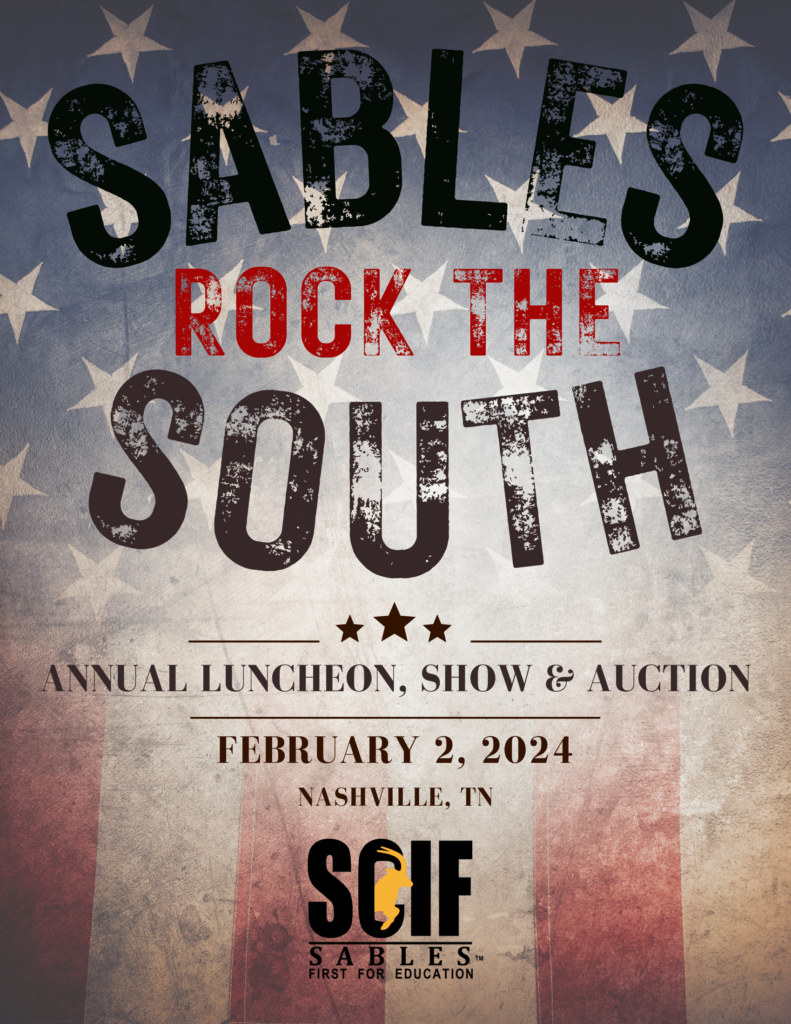 We would like to personally invite you to attend our Sables Luncheon, Sables Rock the South!, on February 2nd, 2024, at the Omni Nashville Hotel. Tickets cost $150 or a table is $1,500. Doors will open at 10:15 AM where you will be able to enjoy a complimentary specialty alcoholic drink and mingle with others who are passionate about conservation and hunting. You can also check out the Sables silent auction items before enjoying a delicious lunch, the fast and furious live auction, and Southern Rock entertainment! Proceeds from the Luncheon go towards supporting SCIF Education Programs.
Premier Luncheon Sponsorship Opportunity
Sables is seeking out a Premier Sponsor to contribute $25,000 for the 2024 Luncheon. The Premier Sponsor will receive the following in exchange for their generous support:
(5) Premium Seat Tickets
Premier Sponsor signage at Sables Convention Booth
Front page coverage in Luncheon Program
Booth with sponsor product inside Luncheon room
60-second Sponsor Video played at Luncheon
Total of (10) "Thank You's" during Luncheon
Luncheon napkins with sponsor logo
Easel at door entrance highlighting sponsor
Banners recognizing sponsor
Recognition on Sables website page
Recognition alongside top auction item (valued at $48,000)
Promoted in SCI & SCIF publications and digital media
Recognition in Sables Newsletter reaching 1,000 members
For more information, contact David Hawkey, SCI Sales Director, at 520-534-2241×288
VIP Tables
Sponsor a table at the Sables Luncheon for $2500 and help support the Sables education mission. Each table seats 10 and are in the first two rows of the Sables Luncheon and Show, giving you the best seat in the house. VIP Table sponsors will receive the following:
Priority Seating in the front two rows
Special Gift for VIP Sponsor at Table
Special VIP Raffle Ticket with table purchase
Champagne Donor Pin included
Meet and Greet with the Band
Thank you in program book as a VIP Luncheon Sponsor
One-Year Membership to give to a new Sable
To book a VIP Table contact Angela Espinoza, SCI Registration Supervisor, at 520-620-1220 x229
Live Auction
Types of auction items include Hunts, Fishing Trips, Jewelry, Wine Tastings, Firearms, Fur Coats, Dream Vacations / Yacht Cruises.
If you are interested in donating a Live Auction item contact Katie Robinson at krobinson@SCIFirstForHunters.org
Dream Hunt
(Details coming soon…)
Silent Auction
Lower cost items for the conservative budget. Examples of past silent auction items include furs, hunting vests and apparel, jewelry, cashmere scarfs, handbags, concealed carry purses, whiskey decanters, survival bags, silverware sets, dresses, restaurant gift certificates, flamethrower, artwork, and knives.
If you are interested in donating a Silent Auction item contact Katie Robinson at krobinson@SCIFirstForHunters.org
Champagne Donor Pin

These pins are offered to anyone who makes a donation of $100 to pay for the champagne we serve at our the Sables Luncheon at Convention. This is a long-standing tradition carried over from the very first Sables Luncheon held in 1983.
Champagne Donor Pins will be available for sale at the Sables Luncheon Booth or you can contact Katie Robinson at krobinson@SCIFirstForHunters.org
Since 2000, SCI Foundation has provided more than $80 million to promote science-based conservation through wildlife research, capacity building in governments, youth and teacher education, and humanitarian programs that show the importance of the hunting community in society around the world. Growth of SCI Foundation has continued to gain momentum through charitable donations from SCI members and direct grants from local chapters and the SCI organization. Throughout the world, SCI's approximately 50,000 members and 190 chapters contribute time, talent, and financial support to local, national, and international projects.