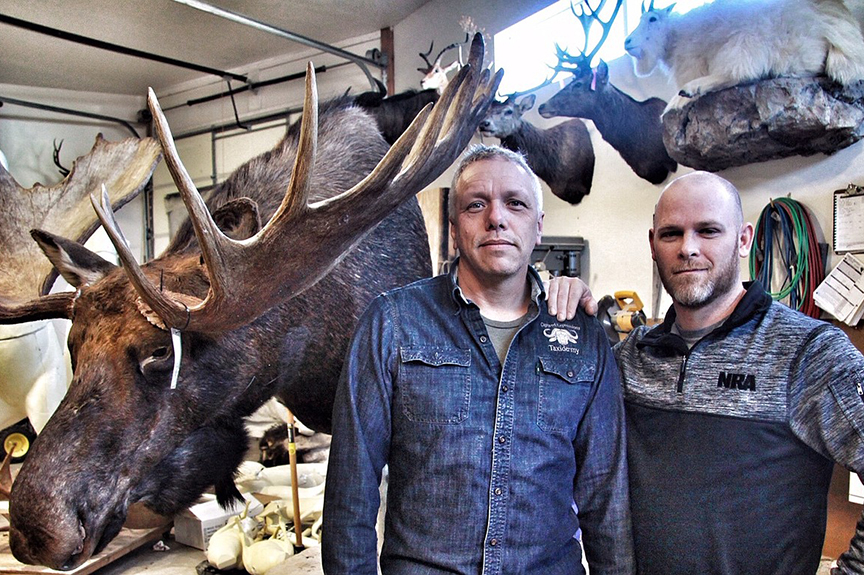 By Ralph Bartholdt
Staff Writer | March 5, 2020
Coeur d'Alene/Post Falls Press
Since its inception almost 50 years ago, the Safari Club has conjured images of big game hunts in exotic places.Pith hats, jodhpurs and .50-caliber top-loaders as a hunter crawls stealthily through saber grass comes to mind.
The galactic hunter image is hard to kick.
Sean West and Jason Neumiller are doing their best to put a dent in it.
West, the owner of Captured Expressions taxidermy in Post Falls, and Neumiller, a pharmacist and former Spokane Central High wrestling standout, are also avid hunters.
And they like making the hunting dreams of local kids come true.
Neumiller is the president of the local Safari Club chapter and West was its president for eight years.
In that time, the men have made sure children with disabilities, and local kids with life-threatening diseases, can fulfill their dreams of tagging a big game animal.
"We're trying to be community helpers," Neumiller said. "We're trying to give back where we can."
As a kid in eastern Washington with a hankering to hunt, Neumiller turned to hunting magazines to quench his hunting dreams — and to fuel them.
If he had been asked about the Safari Club, he would have balked.
"I thought it was about big, rich people hunting in Africa or New Zealand," he said.
Neumiller was an adult, paying off his student loans when West invited him to a Safari Club banquet.
"For me, it was an eye-opener," Neumiller said.
He immediately became involved.
West had the same misconception, but when he did some research he learned the local Safari Club chapter spent 70 percent of the money it collected at fundraising events on local projects.
"That's what makes this organization unique," he said.
At a recent banquet — the annual fundraiser is in February -— the group raised around $60,000, including more than $15,000 at a paddle-raise event in which the entire sum is dedicated to a youth outdoor program that focuses on children and teens with terminal illnesses or disabilities.
Cindy Carpenter, executive director of Youth Outdoors Unlimited in Moses Lake, Wash., was among recipients of Safari Club donations that sent local kids, mostly from Washington and Idaho, to hunt elk. In one case, Sandpoint teenager Logan Temple, who was diagnosed with Hodgkin lymphoma, was sent on an all-expense paid hunt and bagged an elk in northwestern Washington. Logan passed away in September.
"He went through cancer treatment at Sacred Heart," Carpenter said. "That's what he wanted to do, he wanted to go elk hunting and we made it happen."
Carpenter bagged a 5×5 bull on the outing.
"When kids come to us and they have one trip-of-a-lifetime request, they want to shoot a big game animal," Carpenter said. "We can't guarantee a harvest because we're hunting, but we pay for it all, even the taxidermy when they harvest an animal."
Carpenter said the Safari Club events are invaluable.
"People are so stinking generous," she said.
Generosity is what keeps West and Neumiller involved.
The club also sponsors a Hunters Against Hunger program that pays a butcher shop to grind big game roadkill — such as elk, antelope, deer and moose struck by vehicles or trains — as well as meat confiscated by game departments to food banks.
The group also sponsors an annual New Shooter Day program that gets kids and adults involved in the hunting sports. It provides grant money to programs such as the American Wilderness School that has local teachers and students attend an outdoor camp and it helps fund trap clubs and shooting ranges, and provides funding to support archery programs in schools.
The group's focus is humanitarian, conservation and education.
"We're required to do those three," West said.
When he learned of the program many years ago, West was surprised.
"I thought it was a bunch of rich doctors going to Africa," he said.
He was wrong.
"It's just us working guys," West said. "We're just a bunch of average people."
With the chapter's annual fundraiser completed, West and Neumiller and the rest of the volunteers and chapter members have a budgetary task ahead of them.
Distributing the donations is the part they like best.
"We have a bunch of money in the bank, and now we get to spend it," West said.