Experts at the Southern African Development Community's Rhino Management Group (SADC RMG) have compiled a new status report on the region's black rhino populations, funded by Safari Club International Foundation (SCIF). The updated data show many positive trends despite some ongoing management challenges.
The report represents the most comprehensive picture of each black rhino population at the site level across southern African range states. As of the end of 2018, their numbers had increased slightly to nearly 4,700, up only a couple hundred since the last report but more than 2,000 since the year 2000, in over 100 breeding populations on almost 100,000 km2 of occupied habitat. The more site-specific details of the report are confidential in nature.
Namibia remains a stronghold for black rhino with the world's largest free roaming population thanks to the country's community conservancy model. This success was recognized in the most recent IUCN species assessment, which downgraded the southwestern D.b.bicornis subspecies from the Vulnerable to Near Threatened category. Private landowners also play an increasingly important role in rhino conservation, especially in South Africa which hosts the second most black rhino among range countries.
Regulated hunting in both Namibia and South Africa provides a much needed economic incentive for rhino conservation and demonstrates that sustainable use can work. In these two countries, a conservative number of tightly controlled hunts are permitted under strict criteria. Surplus males are selected from sites with sex-ratio biases or fully occupied territory. Post reproductive bulls are also targeted to allow new genetic flow or stop aggressive behavior that often kills calves and younger males or injures breeding females.
Rhino are extremely difficult and expensive to protect, requiring large investments in security infrastructure and anti-poaching operations. Managing rhino is also extremely intensive, demanding constant monitoring and specialized translocation techniques, equipment and expertise to repopulate range areas and ensure genetic diversity in established populations.
Unfortunately, since around 2010, an increasing number of rhinos have been moved to safer locations due to heavy poaching and the cost burden of security and monitoring. Despite this, the SADC region has successfully established an additional 25 new sites. This information indicates that lack of available, secure and well-managed land is currently limiting further recovery. In fact, many smaller sites are beginning to reach capacity and need to take action to maintain healthy, resilient populations by moving excess rhino to new areas. Harvesting surplus males can help provide density relief allowing for continued growth for populations where translocation options are limited.
In the last two decades, 42 black rhinos have been legally hunted compared to the hundreds poached in just the last few years. Mortality from drought, intraspecific fighting and capture are each much higher than this conservative harvest offtake. This small number of hunts brings millions of rand back into land conservation and anti-poaching while providing a vital management tool to rhino custodians and wildlife authorities.
In an effort to support landowner incentives, South Africa recently adopted an adaptative quota setting approach scientifically based on no more than 0.5% of the total black rhino population per year. The proposal, accepted by the international regulatory body the Convention on International Trade in Endangered Species of Wild Fauna and Flora or CITES, effectively increases South Africa's national hunting quota from a fixed maximum of 5 annually to 9 or 10, a positive change that will enable more landowners to benefit from their commitment to rhino conservation.
Although the overall regional black rhino population growth is up, the rate of increase has slowed due to losses from poaching. Following the first crisis in the 1970s, poaching again escalated in the 2000s, hitting Zimbabwe hard first, then moving into South Africa and later reaching Namibia by 2013.
SCIF has a long history of sponsoring anti-poaching efforts in Africa. The organization started supporting the Savé Valley Conservancy's Special Species Protection Unit in 2018 and just re-committed another large grant from its Hunter Legacy Fund following a field visit to the Sango wildlife ranch after hosting the 17th African Wildlife Consultative Forum in Victoria Falls.
Private conservancies like the Savé Valley are home to the majority of Zimbabwe's rhino and bear the brunt of the poaching threat. Tactical units like the one supported by SCIF have been effective in Zimbabwe but continue to face life and death risk every day in the veld, a stark reminder of the seriousness of conflicts with poachers.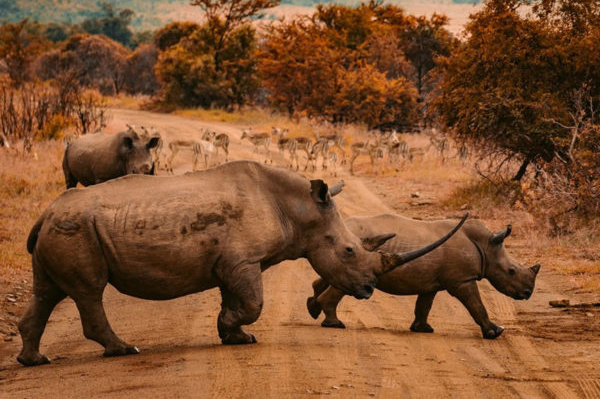 A white rhino marked safe on the Sango wildlife ranch as part of the conservancy's monitoring program. Photo credit: SCI Foundation.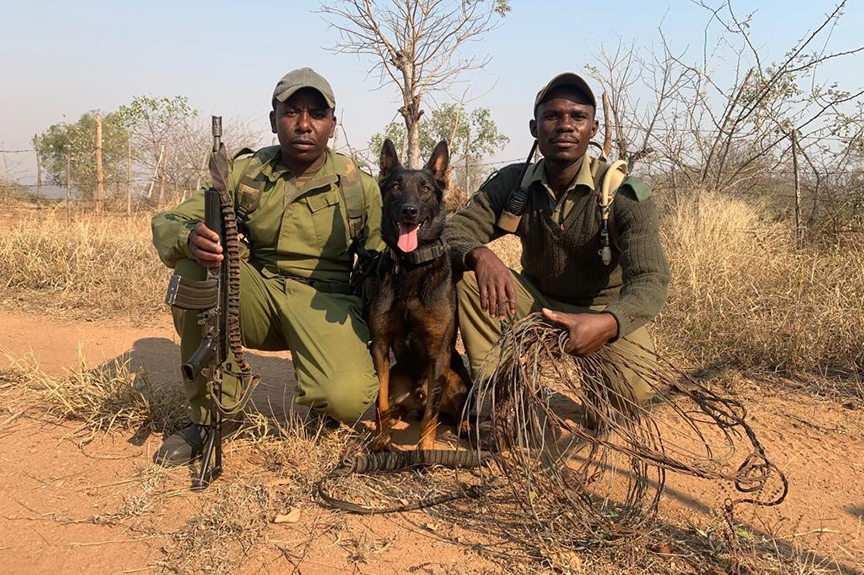 Rangers with the Special Species Protection Unit use canine teams to increase the efficiency of their tracking patrols. A Belgian malinois "Justice" delivered on its name by taking down one of the most notorious poachers in Zimbabwe last year. Photo credit: Savé Valley Conservancy.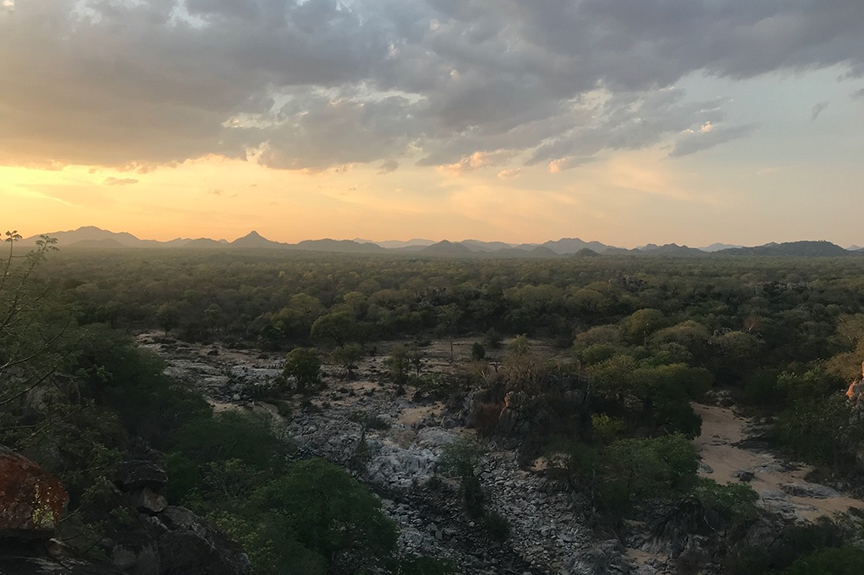 The Savé Valley Conservancy is an incredible example of sustainable use conservation. Once a cattle estate converted into a wildlife ranch, the conservancy has been so successful that today it has too many elephants and an overpopulation of other competing species now being translocated to other areas in need around Zimbabwe. Photo credit: SCI Foundation.
Poaching in South Africa appears to be on a downward trend, declining for the fifth year in a row, although a key rhino population in Kruger National Park continues to suffer high rates of poaching pressure. As the response to poaching increases or national enforcement policies improve, the threat moves from region to region within and across borders. The most recent cases have been seen in Botswana.
Now with restrictions on international travel due the global COVID-19 pandemic, an increase in rhino poaching is being reported. Many photographic hotspots and rural areas supported by tourism are increasingly vulnerable from the shutdown as safari operators that manage concessions are struggling to keep up anti-poaching operations.
Outside the black rhino's core range in Namibia, South Africa, Zimbabwe and Botswana, small but viable populations are increasing in eSwatini, Malawi and Zambia fed by reintroduction efforts. While work to sustain positive population growth continues, the species' future remains highly dependent on continued conservation action.
The recovery of the black rhino is yet another well-documented conservation success story for southern Africa. The SADC RMG status report is an immense compilation of data, showing the laudable efforts of game scouts, field rangers, rhino managers and private custodians. Thanks to the cooperation among these stakeholders, this information will be used to improve conservation planning, biological understanding and black rhino management. SCIF commends this important work to protect the species.