Bell Family Encourages Hunters to "Pay It Forward" With Blue Bags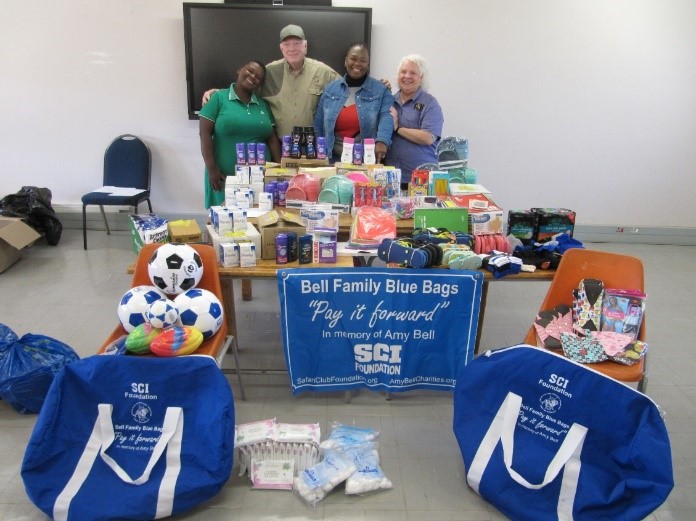 Giving back to communities is a SCI/F value. Through Safari Club International Foundation and Amy Bell Charities, hunters can take Bell Family Blue Bags to remote areas of the world to help provide medical, educational, relief supplies, clothing and toys to people most in need.
How the Bell Family Blue Bags Got Their Start
In 2015, after the unexpected passing of his daughter, Amy Bell, Larry Bell met with then SCI Foundation's Executive Director Bob Benson to discuss ways that the Bells might work with the Foundation in helping support the Blue Bag SafariCare program in Amy's memory.   Because they saw the value in the program and knew how important philanthropy was to Amy, the Bells became the official sponsor of the Bell Family Blue Bag Program in memory of Amy. Over the last eight years 1,274 Blue Bags have helped individuals worldwide
Amy Bell, Hunter, Horsewoman, Philanthropist and a Friend to All
Amy Doris Bell was known as a tenacious horsewoman, a seasoned traveler, huntress and dedicated private philanthropist. In her early twenties, she established the Amy Doris Bell Fund at the Permian Basin Area Foundation. The Foundation's primary focus was to support agencies worldwide that provided education and wellness for children. Amy helped fund numerous projects with Child Fund International, Salvation Army, Feed the Children, and she also sponsored a much beloved child in Zambia.
Amy loved to travel and took the lead on numerous Bell family hunting and sight-seeing trips.  She traveled to Africa several times including trips to Namibia, South Africa, Zambia, Botswana, and Zimbabwe.  She also made hunting and sight-seeing trips to Spain and to New Zealand.  Wherever she went, Amy made close friends on these adventures and, along with all of her family, always looked for opportunities to "Pay It Forward" to those less fortunate.
Take a Blue Bag on Your Next Hunt
You, too, can help pay it forward with a Bell Blue Bag. Bell Family Blue Bags are filled by SCI chapters, individual members, and church groups. The supplies can be purchased before your hunt and then delivered once you arrive at your destination or you can double your impact and fill the bags once you reach your destination. Buying local at your destination not only saves on shipping or baggage costs, but increases the benefit to the local economy, doubling your impact. Blue bags are delivered by those buying the supplies, directly to villages, clinics, orphanages, schools, doctors, caretakers, and teachers to use for those that are in need. Typically, your hunt guide knows of places in need and can assist. If you are interested in taking a Bell Family Blue Bag on your next hunt, please contact Katie Robinson at KRobinson@SCIFirstForHunters.org. Help continue Amy's legacy by "Paying It Forward".