The Ya Ha Tinda Elk Project is one of the longest-running studies on elk in an intact ecosystem under wolf and grizzly bear predation in North America. This research will continue to improve understanding of the factors affecting calf recruitment and migratory behavior in the YHT elk population and allow for more effective wildlife management.
Information in this Project Update was provided by the Ya Ha Tinda Elk Project.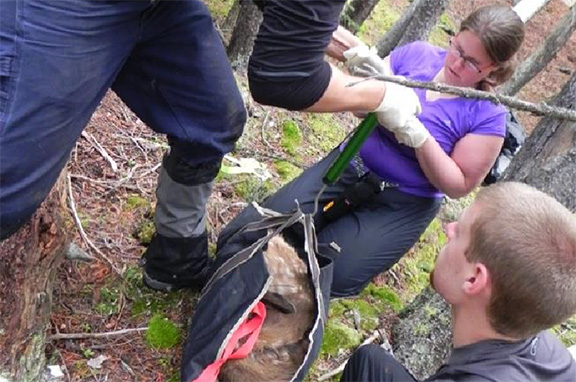 Species involved: Elk
Project partners: University of Alberta, University of Montana
Total SCIF Investment: $127,000 (With help from HLF) (Total need: $50,000)
Year SCIF began involvement: 2013 (Timeline: 2000-2017)
Project Objectives
Monitor population trends of Ya Ha Tinda elk herd.
Quantify reproductive rates, age-specific survival, and movements of adult and juvenile elk.
Evaluate bed-site characteristics and factors influencing elk calf survival.
Anticipated Outcomes
The Ya Ha Tinda elk herd plays an important economic role in drawing hunters, recreationists, and wildlife enthusiasts to both Parks Canada and provincial lands. This research will guide management actions to ensure benefits of the Ya Ha Tinda elk herd are appreciated well into the future.
Recent Project Update
We received a brief quarterly report for this project in mid-January. The project is part of a long-term study of this declining elk population near Banff NP in Alberta. They are putting GPS collars on adult bulls in an effort to learn about migratory movements and survival (including hunting vulnerability). They captured a monitored 32 bulls in 2018. Of these, 19 moved into Banff in the summer/fall, where they are not available for harvest. Eight collared bulls were harvested legally during the 2018 season after they either remained at Ya Ha Tinda or migrated to adjacent game lands. They recently captured 27 more bulls for the 2019 season.
Since 2000, SCI Foundation has provided more than $80 million to promote science-based conservation through wildlife research, capacity building in governments, youth and teacher education, and humanitarian programs that show the importance of the hunting community in society around the world. Growth of SCI Foundation has continued to gain momentum through charitable donations from SCI members and direct grants from local chapters and the SCI organization. Throughout the world, SCI's approximately 50,000 members and 190 chapters contribute time, talent, and financial support to local, national, and international projects.