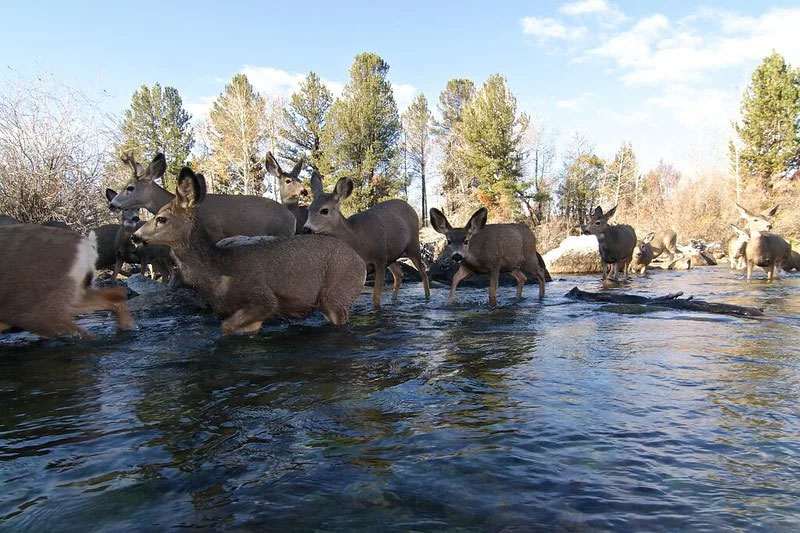 A research project, funded in part by Safari Club International Foundation (SCIF) and the Hunter Legacy Fund 100 Endowment, has tracked the spring migration of a mule deer herd more than 4,000 strong into the backyard of SCIF's American Wilderness Leadership School. The project is led by the Wyoming Migration Initiative (WMI) and the Wyoming Coop Unit, in collaboration with the Wyoming Game and Fish Department and the Bureau of Land Management.
"Safari Club International Foundation is proud to be a continuing supporter of the Wyoming Migration Initiative," said Dr. Chris Comer, Director of Conservation for SCIF. "Using the latest tools available for spatial analysis, WMI and its partners are at the cutting edge of our understanding of seasonal movements in wild ungulate populations and how those movements influence their management and conservation."
The state of Wyoming boasts some of the most brilliant natural landscapes in the world and is home to some of the most pristine ecosystems on Earth. Given what we know about the impact of human development on wildlife populations, it's no coincidence that the state with the fewest people is home to some of the most robust populations of wildlife anywhere in the country. That doesn't mean, though, that Wyoming's wild residents avoid contending with negative impacts and environmental stressors brought on by their human neighbors.
Just 578,000 people reside in Wyoming, compared to roughly 400,000 mule deer, 400,000 antelope, 105,000 elk, 6,500 bighorn sheep, and 3,500 moose. There are also large numbers of cougars, black bears, grizzly bears, and wolves roaming the state, and it is one of few places where the full complement of large mammals is still present – making Wyoming one of the last remaining truly wild places in the continental U.S.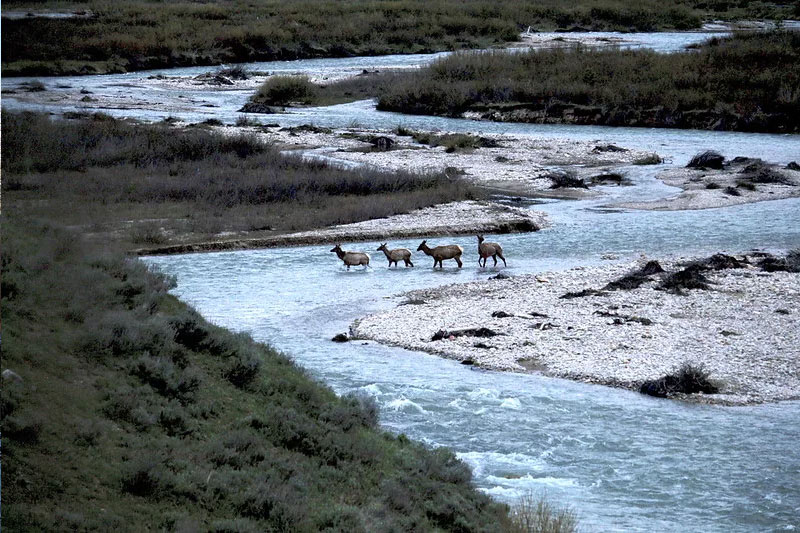 Wyoming isn't quite as wild as it once was though, as the landscape is checkered with a growing pattern of human development like the rapidly growing town of Jackson and energy development on both private and public land. When humans and wildlife share a landscape, habitat degradation and human-wildlife conflict are seemingly inevitable, which has the potential to negatively impact the long-term health and sustainability of wildlife populations as evident by vehicle collisions with wildlife on Interstate 80 and increased disturbances of bighorn sheep herds from backcountry skiers in Jackson Hole.
Wild ungulates possess a variety of life strategies that allow them to use their environment efficiently. In many cases, this includes moving seasonally to "surf the green wave" by following the blossoming spring vegetation as it progressively blooms at higher elevations in order to take advantage of the best food and cover available. Even within a species, such as mule deer, scientists observe variable strategies, ranging from staying in the same location to avoid the risk of moving (resident animals) to traveling over 240 miles from winter to summer range (long-distance migrant animals). The long-term health of Wyoming's deer, antelope, elk, sheep, and moose populations hinges on their ability to seasonally migrate from low-elevation winter ranges to high-elevation summer ranges, where an abundant food supply helps them pack on the fat needed to survive the harsh winter.
Wildlife migrations of such magnitude are a unique and historically significant part of Wyoming's cultural, hunting, and conservation heritage. However, given the increasing levels of sprawling housing developments, and increasing traffic volumes on roadways, energy development, and backcountry recreation, the future viability of these migration routes is in jeopardy. Additionally, the biological and political complexities involved with managing and conserving long-distance migratory species outside of protected areas are daunting. There is a pressing need to better connect the science of wildlife movements with broader conservation and education efforts in order to shape policies capable of addressing these modern management challenges.
Modern problems call for modern solutions. Fortunately for Wyoming's wildlife, the state's wildlife managers (the Wyoming Game and Fish Department; WGFD) are developing new solutions to map and conserve migration corridors. Much of that work is supported by the research of the Wyoming Migration Initiative at the University of Wyoming – a strategic alliance that has successfully brought together some of the top wildlife scientists, conservation communicators, filmmakers, and cartographers in the country to work towards shared goals.
The focus of the WMI is to advance the understanding, appreciation, and conservation of Wyoming's migratory ungulates through innovative research and sharing scientific information through public outreach. Their mission meshes perfectly with the mission of SCIF, which is to ensure the future of wildlife through conservation, education, and hunting. SCIF and the Hunter Legacy Fund 100 Endowment have been proud supporters of WMI since 2017, providing more than $100,000 combined to help support research needs for a variety of projects focused on mule deer conservation – most recently, an ongoing study of behavioral strategies in the now famous annual Red Desert to Hoback Mule Deer Migration. That study, led by graduate student Anna Ortega of the Wyoming Coop Unit, features a strong outreach component by WMI.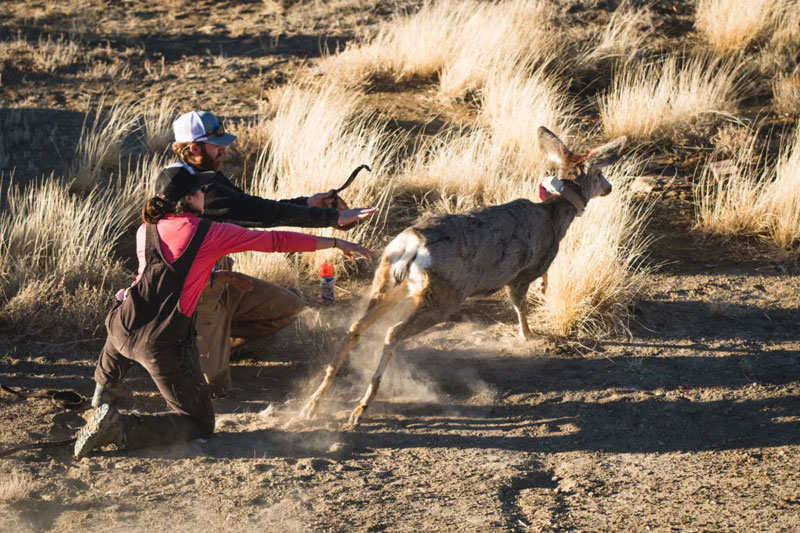 To help paint the picture of the importance of the Red Dessert to Hoback corridor, WMI has developed detailed graphics to track the spring migration of the herd through a deer named "Jo," who as it turns, out, has a special connection to the SCI Foundation.
The story of Jo's migration has been shared with hundreds of thousands of people on social media, as detailed maps and the accompanying text bring life to her movements. Jo is a doe equipped with a satellite tracking collar that keeps researchers apprised of her movements, and on May 22nd, Jo entered the valley surrounding the SCIF property near Granite Creek. Over the last several weeks, maps have shown her progressive movement along the 150-mile migration route beginning in late March when Jo left her winter range. Her story has been shared far and wide on social media, reaching more than 350,000 users on Facebook, and thousands more on Twitter and Instagram.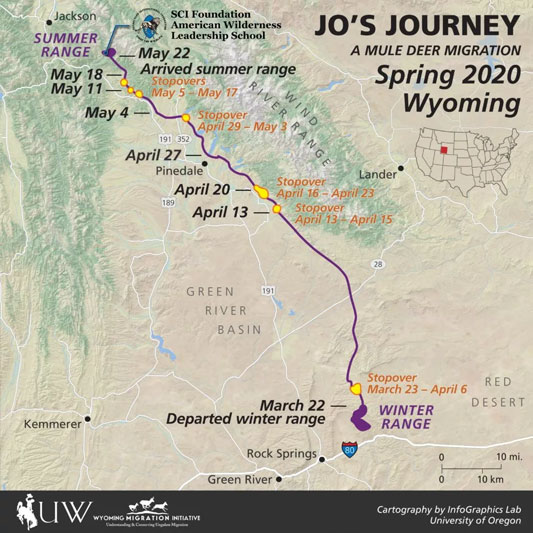 "The findings of this project are being used to plan more effective on-the-ground habitat conservation and regional land planning by evaluating the consistency of migration corridors from year to year, and identifying key locations for actions such as fence removals, land conservation, and highway crossings that can facilitate successful migratory movements for mule deer, pronghorn, and various other species," said Dr. Comer. "It is a bonus for SCI Foundation that our American Wilderness Leadership School near Jackson can play a small part in helping the Red Desert/Hoback mule deer herd complete their arduous annual journey."
"The SCI Foundation's American Wilderness Leadership School ranch at Granite Creek helps conserve an important piece of spring and summer habitat for migratory elk and mule deer," said Gregory Nickerson, writer and filmmaker with the Wyoming Migration Initiative at the University of Wyoming.
"GPS data show mule deer that winter in the Red Desert 150 miles to the south spend their summers on all the ridges surrounding the camp and the Jack Pine cabins. We've also recently learned that the mule deer with the longest migration corridor documented — up to 242 miles one-way from the Red Desert across the Tetons — crosses Granite Creek and stops over very near the SCIF property. Studies like this show the fascinating movements animals make, and also highlight opportunities for conservation. We're grateful to partner with the SCI Foundation on our ongoing migration research of the Red Desert to Hoback Mule Deer Migration Corridor."
"The wildlife connectivity in the Granite Creek valley is fully intact, and the area is also used by deer and elk for fawning and calving," Nickerson said. "In May 2018, I saw the first elk calf of the year right next to this property. It's really a testament to the foresight of the Safari Club that they conserved this property and used it as a real-world example to teach about hunting and conservation."
Jo and her herd's summer range sprawls out across several square miles, with the high points at over 8,000 feet of elevation, while one of the valleys the herd inhabits is literally in the backyard of the SCIF AWLS property.
The AWLS property was once a guest ranch, historically owned by Doc McLeod, a pioneering outfitter in the Jackson Hole area who was known for spending decades exploring the Gros Ventre Range. His descendants, the Moore Family, later operated the property as a lodge for many years. These folks undoubtedly had at least a basic understanding of the migration phenomenon encompassing their area each spring as the land filled up with the same deer and elk herds that still roam the region today. Thanks to modern GPS technology, we know the corridors these herds use stretch all the from the area surrounding the AWLS property all the way to the southern reaches of the state.
Today, the SCIF AWLS Ranch at Granite Creek camp is used for summer programs to educate teachers and guests about the importance of the North American Model of Wildlife Conservation. Established in 1976 with the vision of providing educators with a useful hands-on experience that they can bring home to their classrooms, AWLS has provided an accredited conservation education program for more than 6,000 teachers who reach more than a million students annually and a challenging experience for more than 1,700 high school students.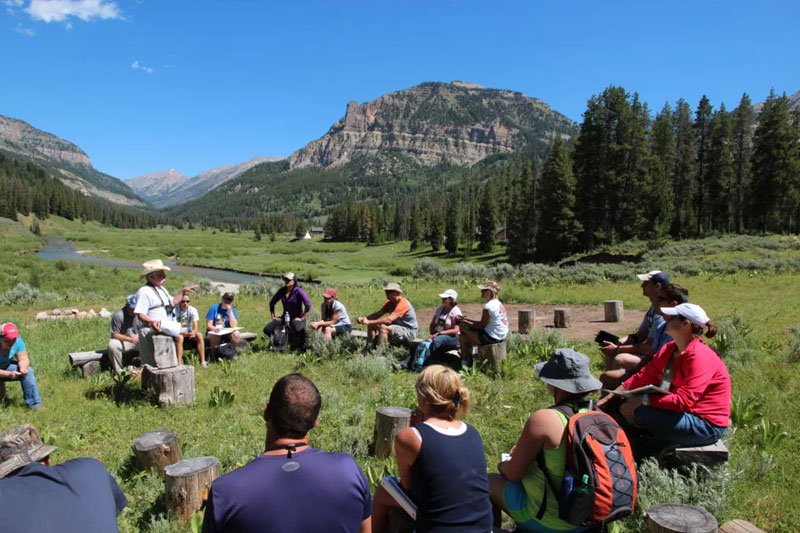 "The fact that the American Wilderness Leadership School can serve a dual purpose as both an educational facility and as an important piece of the puzzle when it comes to conserving the successful migration landscapes necessary for mule deer, one of Wyoming's most iconic game species, to thrive. It's a shining example of everything that the SCI Foundation stands for," said Spencie Netschert, president of SCIF's SABLES Program. "We look forward to continuing the tradition of providing educators with a useful, hands-on experience they can bring home to their classrooms and to ensuring the long-term sustainability of important migration routes through stewardship of our property and the surrounding valley."
The impact of these projects has already proven effective at shaping policies as well. The WMI researchers work hand-in-hand with the WGFD, who is charged with managing the state's wildlife. As detailed migration data has come in over the last decade or so, the WGFD recognized the need to delineate map migration corridors and incorporate the maps into their policies for managing Wyoming's ungulates. In 2016, the WGFD enacted a new policy to "designate" migration corridors and stopovers, and the first corridor they put on the books (and into the planning process) was the Sublette mule deer herd, including the 150-mile RDH migration corridor.
Actions recently taken by Wyoming Governor Mark Gordon further exemplify the positive impact that collaboration between elected officials, state wildlife managers, and researchers can have to ensure the long-term sustainability of wildlife populations. Governor Gordon recently signed an executive order aimed at further protecting wildlife migration corridors throughout the Cowboy State. The best available science drives the corridor designation process through the use of GPS collars that provide detailed documentation of individual movements. Therefore, the mapping of corridors results directly from how the animals are moving across the landscape, which would not be possible without the data being collected by the WMI, WGFD, and other partners.
Governor Gordon is not alone in his commitment to protecting and advancing his states wildlife migration corridors, however, as the Western Governors Association passed a joint resolution in 2019, with Governors from 11 states encouraging federal and state agencies to work together to identify and protect regions that wildlife use as migratory corridors.
In addition, state legislatures from around the country have introduced a litany of bills focused on further protecting and providing increased funding for wildlife migration corridors. Earlier this year, the state of Virginia passed legislation to create a comprehensive program to identify wildlife corridors, protect motorists from collisions with animals, and address barriers to wildlife movement. A year earlier, in 2019, New Mexico became the first state to legislatively adopt a wildlife corridors program, Oregon soon followed suit, and dozens of other states are now considering similar legislation.
The work to study, map and conserve migration corridors in Wyoming has also greatly influenced the national dialogue around migration corridors, and Wyoming continues to be a great example of how state wildlife managers can use migration data to find new ways to work with elected officials and government agencies to develop efficient and effective conservation strategies.
Migration Corridors have been gaining recent traction at the federal level, too, with the Secretary of the Interior David Bernhardt recently announcing $10.7 million in support for big game migration corridors in Colorado, Montana, Nevada, Utah, Washington, and Wyoming. In 2018, former Secretary of the Interior Ryan Zinke signed a secretarial order directing more resources toward habitat restoration, conservation, collaboration, and research related to big game migration corridors. That topic was also recently a part of the discussion during SCI's exclusive interview with Secretary of Agriculture, Sonny Perdue. In his role, Secretary Perdue oversees the U.S. Forest Service and the agency's work related to wildlife corridors and other habitat projects.
The federal government is in a unique position to help manage and conserve migration corridors considering that many migration patterns, particularly in the western U.S., pass through a checkerboard of federally managed land with documented migration routes cutting through areas managed by the National Park Service, U.S. Forest Service, Bureau of Land Management, and the U.S. Fish and Wildlife Service.
"SCI's advocacy team in Washington D.C. will continue to work with legislators and federal agencies to prioritize funding and expanding the infrastructure needed to ensure our nation's wildlife has safe passage across their historical migration routes to the fullest extent possible," said SCI Director of Government Affairs Ben Cassidy. "The commitment that Secretary Zinke, Bernhardt, and Perdue have all made towards protecting these vital ecosystem components will help ensure the long-term sustainability of wildlife populations and, in turn, continue to provide some of the best hunting opportunities on earth."
The complexity and scale of wildlife migration corridor projects and research often require collaboration between various stakeholders and ties together a variety of specific issues related to scientific research, advocacy and engagement with elected officials, and public information campaigns. Few other issues allow Safari Club International and the Safari Club International Foundation to operate within their respective areas of expertise in such a comprehensive manner. SCI/SCIF's involvement with migration corridors tangibly exhibits the organizational commitment to education, conservation, and advocacy.