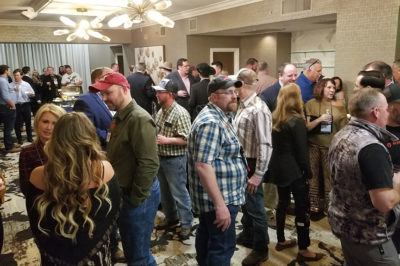 Cultivating the next generation of leaders is important if SCI and SCI Foundation are to continue to grow their influence into the future. On Friday, February 7th, SCI Foundation held its Trail Blazers event (formerly called the "Young Guns") in the Sierra View Suite at the Peppermill Resort in Reno, NV. The event, which was hosted by Brook and Barb Minx, was attended by an energetic group of more than 150 up and comers, many who will eventually take on leadership roles in SCI/SCIF, ensuring the continued viability of this group well into the future.
"The future of hunting relies on new members and especially young people getting more involved in what we do," said SCI Foundation President Warren A. Sackman, III. "Our Trail Blazer's group is a great way for us all to meet and build relationships and learn more about SCI and SCI Foundation. We look forward to seeing this group grow in the future."
Door prizes are given away to those in attendance. We thank Barrett Firearms for the donation of a Fieldcraft rifle, Onca Gear for the donation of a set of their tactical gear, and Keegan McCarthy of Coastal Alaska Adventures for donating the grand prize of a coastal Alaskan black bear hunt.
To become more involved with SCI Foundation or the Trailblazers, contact Kimberly Byers at kbyers@safariclub.org or 520-798-4891.