SCIF Breakfast Honoring Veterans
Omni Nashville Hotel – Saturday Feb. 25th – Doors Open 7am
Honoring those who sacrifice their lives for our freedoms is a tradition at SCI Foundation. Disabled military personnel and veterans are honored at an annual SCI Convention Breakfast. It is a way to say thank you.
The SCIF Breakfast Honoring Veterans is made possible through Trijicon's generous sponsorship and the dedication of the Veterans Committee. All SCI members are welcome to attend the breakfast and veterans eat for free. Non-veteran ticket price is $55. The breakfast is held in conjunction with the SCI Convention. The 2023 Veterans Breakfast will be held at the Omni Nashville Hotel, in Nashville TN. Doors will open at 7:00 AM.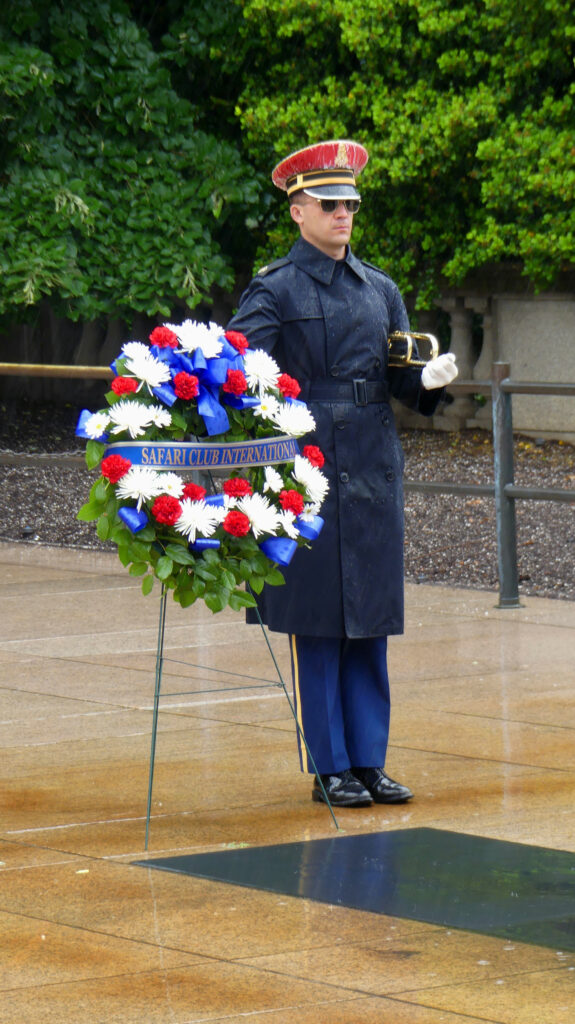 The Veteran's Committee is a group of dedicated SCI volunteers who devote their time and expertise to helping honor and support veterans. The committee holds conference calls and meetings throughout the year to plan the breakfast, and they work with long time donors who support the Veterans Program to donate items for auction during the breakfast. The funds raised are earmarked exclusively for funding the breakfast which is provided to veterans at no charge, and assisting in the funding of the SCI Humanitarian Services. In addition, SCI Chapters that have gone above and beyond in hosting Veteran's events are honored at this breakfast with awards.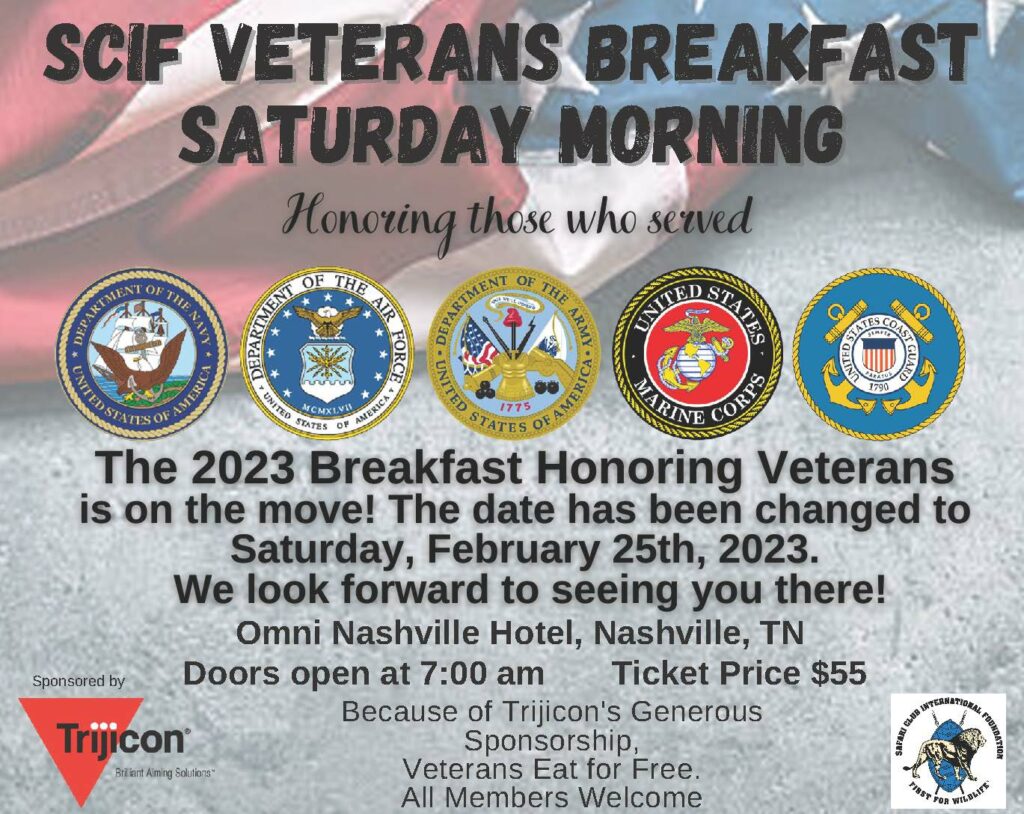 The SCIF Veterans Committee thanks Trijicon for their generous sponsorship of the Veterans Breakfast. Because of their sponsorship, veterans attend the breakfast for free. Others will pay $55 per ticket. Join us in honoring military service men and women who risk their lives to protect our freedom at this special breakfast. The breakfast will sell out, so get your tickets today! Tickets can be requested and purchased while registering for the show at www.ShowSCI.org.
Sponsored by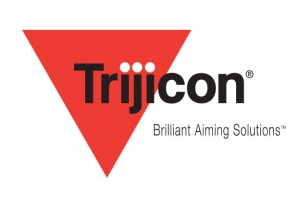 Chapter Veteran's Award
Each year at the Breakfast Honoring Veterans, chapters are recognized for engaging veterans in hunting or fishing experiences, or holding social gatherings honoring veterans for their services. Submit an application and earn an award for your chapter!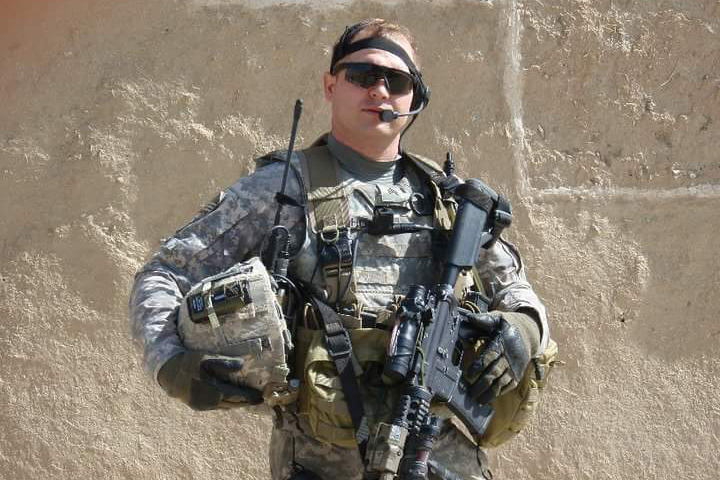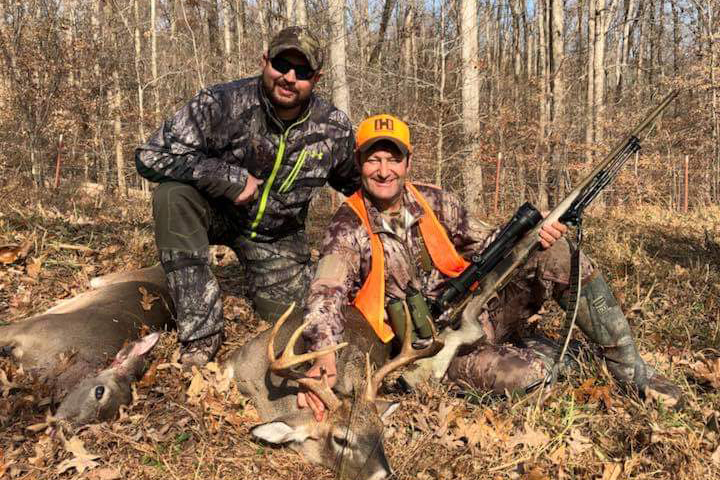 Honoring those who serve at the Annual SCIF Veterans Breakfast, sponsored by Trijicon
By Dan Brooks, SCIF Director of Education and Humanitarian Services
Jonathan Thomas, a 15-year veteran who served as Staff Sargent who was honored with two Purple Heart medals and one Bronze Star V for Valor during his service, was the 2019 recipient of the second annual SCI Foundation Veterans Hunt..
Jonathan has been deployed four times serving two tours in support of Operation Iraqi Freedom and two tours in Enduring Freedom. He earned a Purple Heart medal for combat injuries sustained during an ambush during his first deployment to Iraq. He was first wounded by a shot to the chest during his first Tour of Duty, Operation Iraqi Freedom (2003-2004) that broke his ribs. Jonathan was injured again when an RPG propelled shrapnel in his thigh.
He earned his second Purple Heart and Bronze Star V for Valor during his Tour of Duty, Enduring Freedom (2010-2011) for stopping a suicide bomber. His quick action caused the bomb to detonate early killing the suicide bomber, which saved his company from being wounded or killed. Jonathan was the only one injured during the incident causing injuries to his spinal cord, he suffered a traumatic brain injury and lost peripheral vision in his right eye. Jonathan was also honored with the Meritorious Service Award for years of service and the Order of Saint Maurice Medallion after his last Tour of Duty. Jonathan is a cancer survivor having battled non-Hodgkin's Lymphoma, which subsequently ended his military career.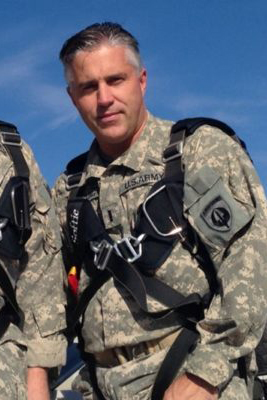 2019 Combat Veteran Hunt Recipient – Jeff Wellington
Jeff Wellington, a 34-year veteran and Army Helicopter pilot, was the 2019 recipient of the second annual SCI Foundation Veterans Hunt. Jeff entered the Army in July of 1985. He has been deployed over 42 times on numerous combat missions as a Special Operations Solider. These assignments included Operation Prime Chance (Persian Gulf), Operation Just Cause (Panama), Persian Gulf (Iraq), Enduring Freedom (Afghan), Iraqi Freedom and Inherent Resolve. Jeff has received several Air Medals with valor and was awarded the Purple Heart for injuries sustained in combat operations while deployed as part of Operation Gothic Serpent (Somalia, Black Hawk Down).
Jeff's 6-day bear hunt includes lodging and meals as well as processing, and other incidental expenses. The hunt was generously donated by Veteran Committee member Bob Duhadaway and his wife Cathy.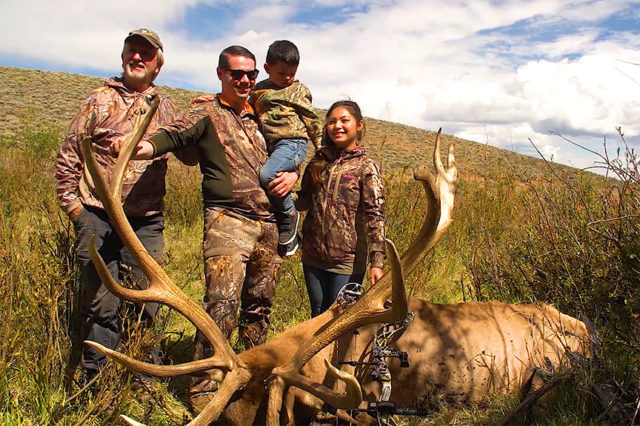 2018 Combat Veteran Hunt Recipient – Cody Scriver
Cody Scriver, a nine-year Marine veteran who had participated in over 100 combat missions in Afghanistan, was the 2018 recipient of the first-ever SCI Foundation Veterans Hunt – a Colorado 400-420-point bull elk hunt donated by Trophy Mountain Ranch located near Cowdrey, Colorado.
Since 2000, SCI Foundation has provided more than $80 million to promote science-based conservation through wildlife research, capacity building in governments, youth and teacher education, and humanitarian programs that show the importance of the hunting community in society around the world. Growth of SCI Foundation has continued to gain momentum through charitable donations from SCI members and direct grants from local chapters and the SCI organization. Throughout the world, SCI's approximately 50,000 members and 190 chapters contribute time, talent, and financial support to local, national, and international projects.