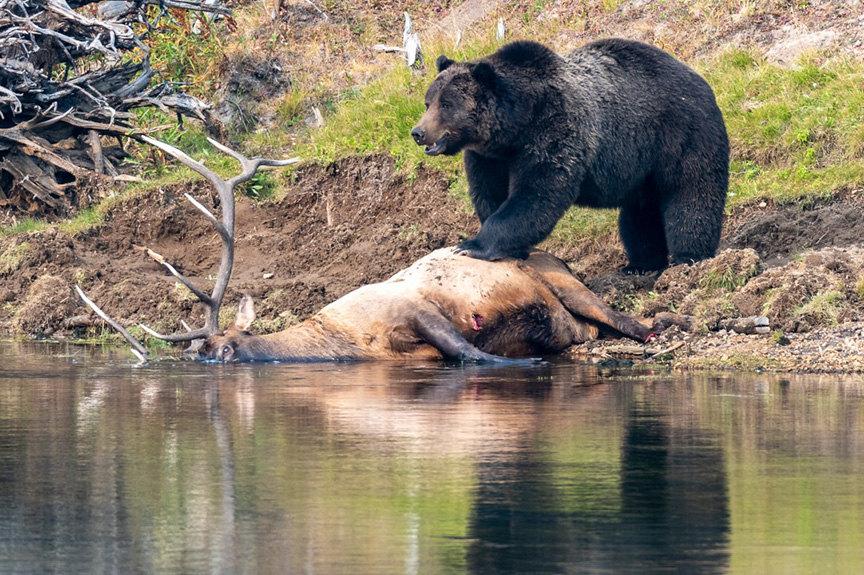 Safari Club International Foundation (SCIF) was recently awarded a grant from the Wyoming Wildlife Foundation's Memorial Bear Fund. The funding will be used to conduct bear spray giveaway events for hunters in Wyoming.
As part of SCIF's new strategic approach to its conservation focal areas, grizzly bear management is a top priority. The Wyoming Wildlife Foundation was identified to help deliver tangible projects that mitigate conflict issues.
"The Wyoming Wildlife Foundation is an ideal partner," said SCIF Director of Conservation, Dr. Chris Comer. "We are excited to receive this seed funding to implement these events that will benefit hunters in Wyoming and plan to expand on their success to build on our new grizzly bear conservation strategy."
The bear spray giveaways will be organized in close coordination with the Wyoming Game & Fish Department and the Western Bear Foundation. With financial support from the Wyoming Wildlife Foundation, this strong partnership demonstrates a unified message from sportsmen supporting the use of bear spray and the positive role of hunters in conservation.
The goal is to distribute 450 cans of bear spray to licensed hunters and other recreationists in late August 2021 before peak backcountry activity when hunting seasons begin. Locations determined with the WYGFD will target high conflict areas.
SCIF's strategy was developed to position hunters as a positive force for increasing public safety and ensuring the sustainability of grizzly bear populations in Wyoming and the Greater Yellowstone Ecosystem, including Montana and Idaho. As grizzly bear management efforts transition from recovery to maintaining a stable population, social tolerance will be key, and more resources are needed for conflict managers at the state level. The need for conflict mitigation is significant as grizzly bear populations continue to expand, increasing the likelihood of encounters with humans. Increased awareness and better preparation can benefit both people and bears.
SCIF has a large footprint in the Cowboy state with a history of wildlife conservation and outdoor education. SCIF owns and operates the American Wilderness Leadership School outside Jackson, WY, and has been a significant supporter of the Wyoming Migration Initiative and other mule deer projects. SCIF has also been involved in grizzly bear population research in Alaska's Kodiak Archipelago, southwestern Alberta, and British Columbia's southern Rockies.

Thank you to the Wyoming Wildlife Foundation for this support!
Joe Goergen is SCIF's Conservation Manager.
Photo courtesy of Billings Gazzette/Braeden Roesler