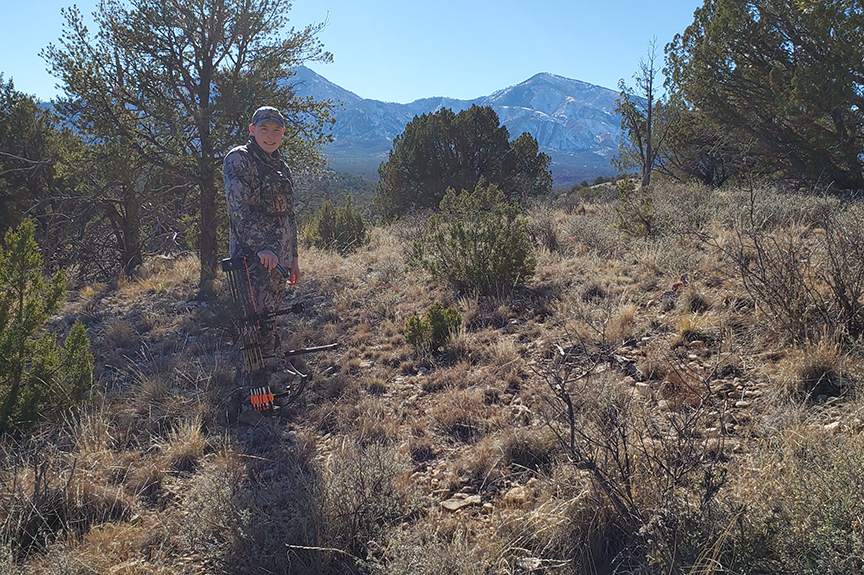 Recently, Safari Club International Foundation (SCIF) had the opportunity to partner with Scholastic 3-D Archery (S3DA) to award a donated bow deer license for New Mexico. Because deer licenses are limited in the west, both organizations agreed to hold a drawing to award this limited deer hunting license. Twenty (20) youth applicants from across the United States applied for the chance to win this hunt and Matthew Ebner from the Umpqua Valley Archers in Roseburg, Oregon was the lucky winner.
Matthew said, "The S3DA New Mexico mule deer hunt that I won was the best hunt I have ever been on! Getting to hunt a new state and terrain was amazing and an experience that I will never forget. Although I didn't harvest a deer, I got incredibly close and will never forget spot and stalking the mule deer of Unit 37 near Capitan, New Mexico. Thanks to the generosity of the Safari Club International Foundation and S3DA, I made memories with my dad that I will never forget."
Matthew's dad added, "While driving on the highway leaving town, I looked over at Matthew. He was gazing out the window of the truck at the mountains we had been hunting the last several days. I could tell he was in deep reminiscent thought. After several minutes, he turned to me and said 'Dad, thank you for bringing me. This is the best hunting trip I've ever been on.' If that doesn't equate to a successful hunt, then I don't know what does! After all, a successful hunt is about much more than just harvesting an animal and as a Dad, I'm so proud to know that my son already understands this. We want to thank Safari Club International and for providing this opportunity and making this hunt possible. Safari Club International's work in protecting the freedom to hunt while promoting wildlife conservation is such a noble cause. We thank you so much for all of the work you do!"
Matthew had a lot of fun hunting new terrain, spotting lots of deer, and found a great pair of shed mule deer antlers. He got close to getting a shot on the first day, but the following days the deer were on the run or out of range. Matthew's mother, Jenny Ebner was extremely thankful for this amazing opportunity that brought Matthew a once in a lifetime hunt. Matthew talks about the trip constantly and even though he did not get the opportunity to bring home a mule deer, he has memories with his father that will last him a lifetime.
We wish Matthew well in his future bow hunting adventures!
Safari Club International Foundation (SCIF) funds conservation, education and limited hunting opportunities for youth, disabled and veterans. So, the partnership with S3DA was a natural fit to SCIF's mission and objectives. For example, many S3DA student members are not only involved in archery but they also participate in various outdoor sports, such as trap shooting, skeet shooting and bowfishing. Student also learn about the North American Model of Wildlife Conservation and the important role bowhunters and bowhunting play in the conservation of our wild game animals.