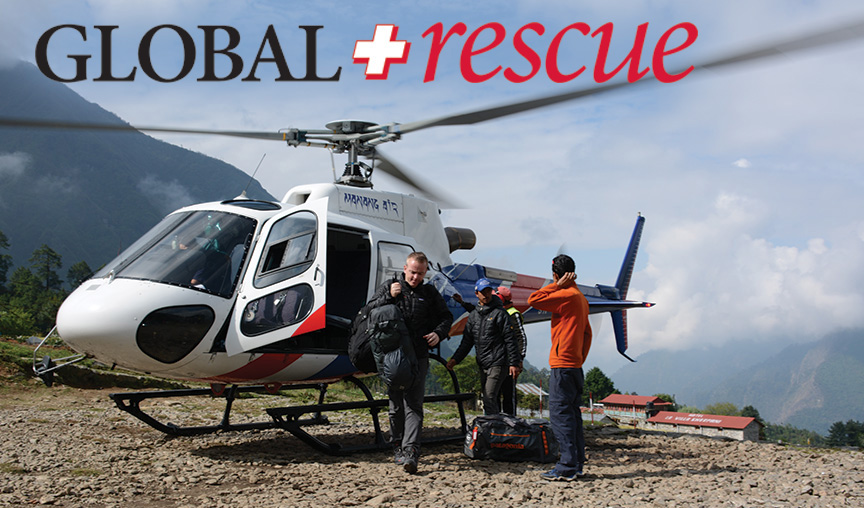 Now until June 1st, SCI members can receive a 10% discount when they upgrade their Global Rescue membership to or purchase a TotalCare membership.
Plus, 10% of your purchase goes toward SCIF conservation and education initiatives.
Update from Global Rescue
Earthquakes, altitude sickness, civil unrest, broken bones, lost passports and so many more crises drive operations at Global Rescue.
Including COVID-19.
As a leading provider of telehealth access, crisis management, travel risk and response, we're working around the clock to support our Global Rescue members.
Be sure to check out our intelligence center, which has details on signs and symptoms, our latest coronavirus blogs with tips and advice from our experts and information on coronavirus quarantine policies.
Looking for daily updates? Our in-house operations teams are closely monitoring ongoing developments, tracking all of the latest restrictions and updates worldwide in a daily intelligence report. Sign up to receive daily alerts when updates are made, delivered directly to your inbox.
Many of you find yourselves at home thinking about the next hunt rather than doing what you love. As we look to the future, we've got to keep ourselves and our families protected in the present so we can get back out when this dangerous and frustrating situation lifts.
One way to stay safe is to avoid risking exposure in crowded clinics. Global Rescue TotalCare memberships include immediate access to doctors for virtual visits.
More Than Telehealth
While SCI members may already be familiar with Global Rescue travel protection services and the SCI Hunter's Travel Assistance Hotline, Global Rescue also offers access to telehealth with a TotalCare membership. TotalCare provides immediate virtual care by a team of medical experts for real-time video consultations and treatment – plus all the services of a travel membership.
Unlike alternatives, TotalCare delivers–
The Same Care Team: Access to a full team of medical professionals to help you figure out what the right answer is for you, no matter where you are in the world.
Complete Care: Every consult can include trusted advice, help with billing and paperwork, in addition to review and coordination of medical records. If needed, doctors can write prescriptions, order labs and imaging or make referrals for residents of all 50 states.
Global Rescue travel services including 24/7/365 travel advisory assistance, health and safety alerts, destination reports, worldwide field rescue and evacuation.
Contact Us
The Global Rescue member services team is standing by 24/7 to provide you any information you need or answer any questions you may have.