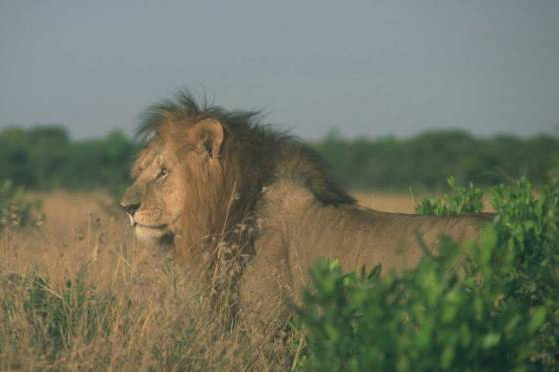 By Libby Gear
Have you ever set foot in a special place and known, at that magical moment, that your life would never be the same? I experienced that moment when I first stepped foot in South Africa and instantly knew my life would be forever changed.
Even though I was young, preparations for my first African safari had created a dreamlike vision for me. When I arrived the air smelled different, the sun shined brighter and the beauty was beyond comprehension. Africa was more than an influence, it was a place that became my inspiration.
When the opportunity came for me to give back to this amazing place that had given me so much, I jumped at the chance. Through SCI, I met and became friends with John Banovich, a famed international wildlife artist who is known for his dramatic paintings of North American and African animals and for his wildlife conservation and humanitarian efforts.
A few years ago, John turned his conservation efforts to lions. These majestic animals have always been a family favorite. There is something magical about hearing them roar in the mornings or watching them walk with such majesty through the bush.
Lion conservation is one of the most important projects currently going on in Southern Africa. When the issue of lion conservation arose, I wanted to get involved. My sister and I have a time-honored tradition of giving to others for our birthdays, so for my sixteenth birthday, I partnered with John Banovich to help raise money for the Chem Chem Lion Project. The $2,500 I raised was used to buy tracking collars to monitor and document lion movement and interactions with the locals.
It was a small step in helping what I believe to be the greatest animal on earth. The animals throughout Africa play a huge part in creating the culture and through the Chem Chem Lion Project, we were able to help these animals we so desperately love.
As a hunter, throughout this Chem Chem Project experience, I learned that as, hunters, we must protect and fight for the people, animals and places that cannot fight for themselves. I love Africa and I love the people and wildlife of Africa.
There is something truly special and inspirational about this place. We, as hunters, must give back to the places we find so special and be inspired to help preserve those special places!
Editor's note: The mission of the Chem Chem Lion Project is to re-create and save the last corridor between the two ecosystems of Tarangire and Manyara which is essential for the entire ecosystem of Northern Tanzania. For more information visit: https://www.wildscapesfoundation.org/our-work/p-r-i-d-e-chem-chem-lion-project