Vermont Moose Mortality and Recruitment
Safari Club International Foundation (SCI Foundation) recently awarded the Vermont Fish & Wildlife Department a $50,000 grant in support of an ongoing three-year study the department is conducting on the state's moose herd. The organization awards grants to "projects with strong potential to contribute to the sustainable management of natural resources or the advance of constructive wildlife research."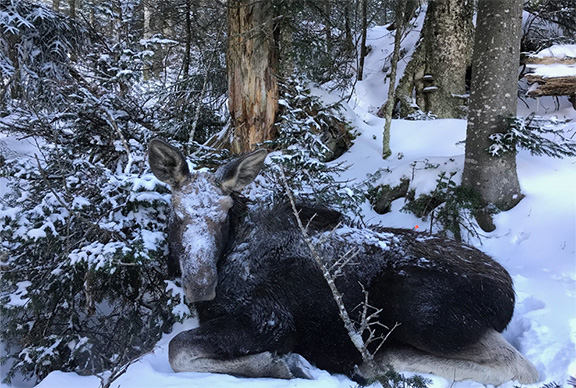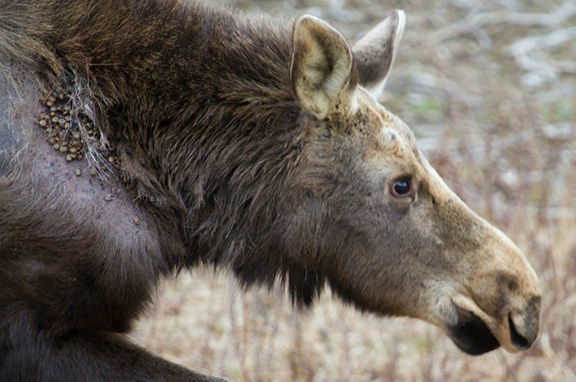 Species involved: Moose
Project partners: Vermont Fish & Wildlife Department, University of Vermont
Total SCIF Investment: $92,000 (Funded by HLF)
Year SCIF began involvement: 2017 (Project timeline: 2017-2019)
Project Objectives
Determine pregnancy rate of adult female moose.
Monitor annual survival of adult and juvenile moose.
Monitor nutritional condition of moose cows and calves during winter stress period.
Document movement and dispersal distance of yearlings away from the capture site.
Perform tick counts on calves that have died and analyze the influence of winter tick loads on moose mortality.
Improve Vermont population models to estimate regional moose numbers and determine sustainable harvest levels.
Anticipated Outcomes
Moose herd numbers continue to decline due to unknown causes that may include infestations of ticks and brain worms. This has resulted in reduced hunter opportunity in Vermont and across the New England states. The VFWD recommended the state issue just 14 permits in 2018 and will issue very few permits in 2019. SCI Foundation hopes to identify causes of moose declines and develop a long-term sustainable harvest strategy.
Recent Project Update
We received a quarterly report from the Vermont Fish and Wildlife Department about the ongoing moose project examining impacts of winter ticks on moose recruitment. During the January capture period, the researchers captured and collared 30 moose calves. Tick counts on calves were consistent with previous years and high enough to present increased mortality risk to calves. Three of the 30 calves died during the 3‐month reporting period, with two of those mortalities potentially related to high tick loads. This project has engaged in extensive outreach efforts, with the result that nearly 50% of Vermonters are aware of and knowledgeable about the influence of winter ticks on moose in the state.
Since 2000, SCI Foundation has provided more than $80 million to promote science-based conservation through wildlife research, capacity building in governments, youth and teacher education, and humanitarian programs that show the importance of the hunting community in society around the world. Growth of SCI Foundation has continued to gain momentum through charitable donations from SCI members and direct grants from local chapters and the SCI organization. Throughout the world, SCI's approximately 50,000 members and 190 chapters contribute time, talent, and financial support to local, national, and international projects.