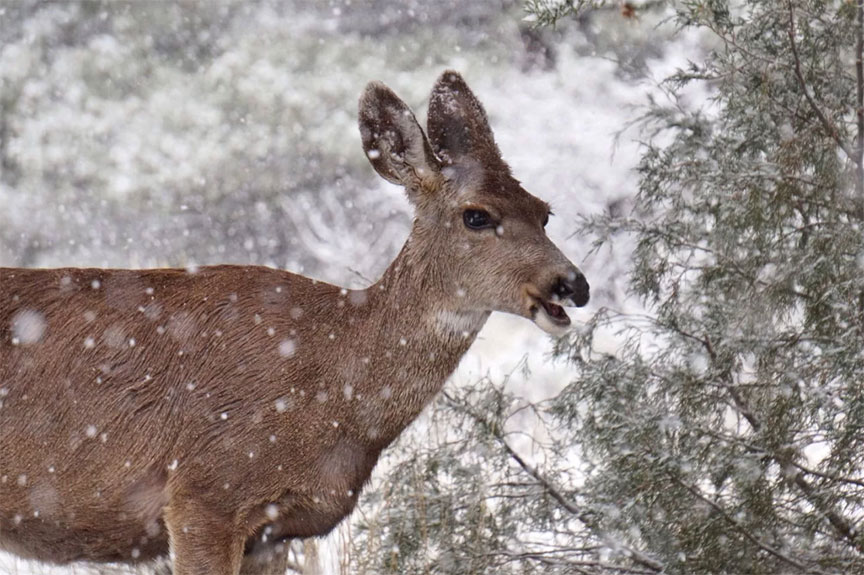 An ongoing research project supported by the Safari Club International Foundation is getting ready to wrap up after five years of data collection, with recent updates indicating the research is producing valuable and applicable results for mule deer management in Wyoming. This extensive project was made possible by a coalition of organizations that included the Wyoming Game and Fish Department and several hunting & conservation organizations, including SCIF.
Led by Dr. Kevin Monteith at the University of Wyoming, the aptly named Deer-Elk Ecology Research Project (DEER) is evaluating the ecological relationships between elk and mule deer in areas where they share range. The study focused on the impacts of drought, coyote and mountain lion predation, and competition to explain why mule deer are declining while elk populations are stable in the Greater Little Mountain Area in southwestern Wyoming.
"We're working really hard to understand to what degree each one of those players is operating so that we can know better which one of those we can push or pull on from a management perspective to create a better scenario for deer in that system," Monteith says.
SCIF is proud to be involved with this initiative, and the novel and integrative research approach developed through the implementation of this project should be transferable to studying the effects of harvest, habitat condition, drought, predation, and competition with elk as they impact declining mule deer herds in other areas throughout the west.
"SCIF has invested almost $500,000 into research on mule deer migratory behavior and population declines across the West, making us one of the most active sportsmen's organizations on the issue,'' says SCIF Director of Conservation Dr. Chris Comer. "The DEER project is another example of good science leading to sound management decisions for a popular game species."