Missouri Black Bear Project
In an effort to understand the dynamics of the ongoing black bear recovery, SCIF and our partners are studying bear habitat use and survival, and obtaining accurate population estimates in order to help the Missouri Department of Conservation develop a black bear management plan. Black bears are doing well in Missouri, and we expect that in the near future a limited hunting season will return for Missouri bears for the first time in nearly a century.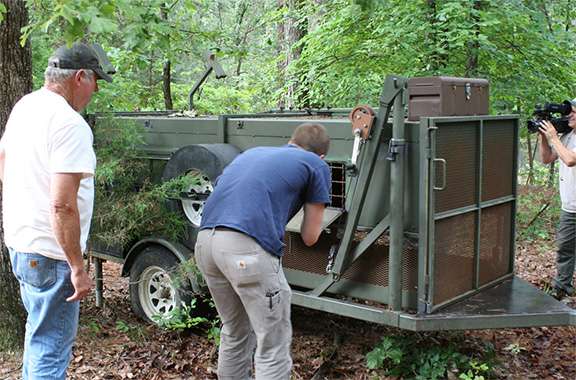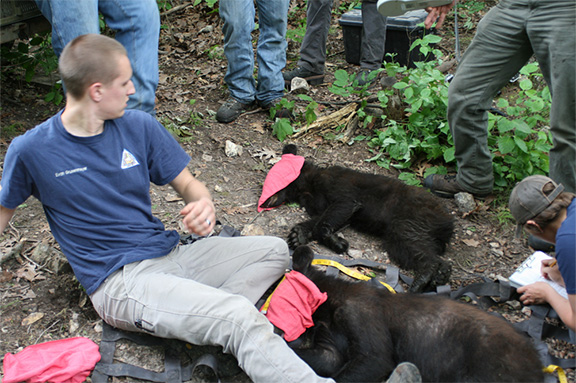 Species involved: Black Bear
Project partner: Missouri Department of Conservation
Total SCIF Investment: $82,000 (With help from HLF)
Year SCIF began involvement: 2011 (Timeline: 2010-2020)
Project Objectives
Determine age at first reproduction and reproductive rates for female bears.
Build a population trajectory model based on demographic information.
Define suitable habitat for black bears, identify areas of primary habitat, and quantify corridors for black bear movement.
Anticipated Outcomes
This project will help define the feasibility and potential schedule for implementing a bear harvest. It will also provide important data for setting season timing and harvest quotas. Population models can be used to evaluate the impact of various regulations. Resource use and spatial distribution would be used to develop black bear management zones to ensure stable populations.
Want to learn more about the project? Watch this video.
Since 2000, SCI Foundation has provided more than $80 million to promote science-based conservation through wildlife research, capacity building in governments, youth and teacher education, and humanitarian programs that show the importance of the hunting community in society around the world. Growth of SCI Foundation has continued to gain momentum through charitable donations from SCI members and direct grants from local chapters and the SCI organization. Throughout the world, SCI's approximately 50,000 members and 190 chapters contribute time, talent, and financial support to local, national, and international projects.