Krieghoff & SCI Foundation Sporting Clays Shoot 2023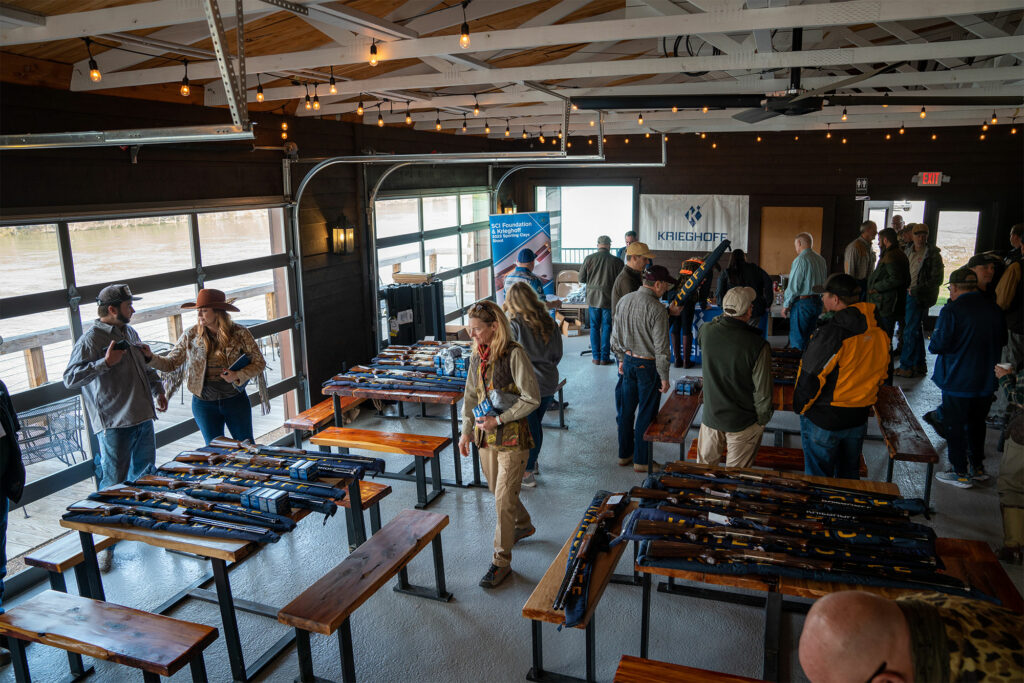 On the morning of Feb. 21, SCI members and SCIF donors gathered at the Nashville Gun Club for the 2023 Sporting Clays Shoot presented by SCIF and Krieghoff. Nearly 70 shooters gathered into teams and were paired with Krieghoff Pro Staff shooters to begin the day.
SPONSORS THAT MADE THIS EVENT POSSIBLE:
Krieghoff International – Sponsoring the event and supplying shotguns for use
Federal Premium Ammunition – Supplying all ammunition for the shoot
She Hunts Skills Camp – For being this year's Patron Sponsor
Hunter Proud Foundation – For being a Station Sponsor
After a safety briefing, teams took to the scenic sporting clays course situated along the banks of the Cumberland River. The course consisted of 12 stations that presented clays at varying angles and speeds, with some stations challenging even the very best shooters. Teams were a mixture of experienced and new shooters with veteran shooters and Krieghoff Pro Staff members coaching those new to the sport.
After a fun morning of sporting clays, members returned to the clubhouse for the awards ceremony. In the team competition, Team "Minx," consisting of Mike Crawford, Lew Webb, Terry Hetrick, Jordan Hasler and Brook Minx, took first place with a score of 141.
Trevor Penny, Jason Price, JJ Sala, Mac McNiel and Brian Ash of team "Sierra Brava Lodges" took second with 115.
Team "Crush It," with team members Chris Bilke, Craig Boddington, Brad and Brittney Jannenga, and Kayle Browning placed third with 102 points.
In the open category, Kaari Wicklund, Pancho Maples and Eric Nicholas took first, second and third, respectively. Wicklund placing first overall was fitting of this year's SCI Convention theme, "Women Go Hunting." Shooting 43/50 she was the top shot among all shooters at the event.
In the ladies' category, Larysa Switlyk placed third, Angela Ferguson placed second and Sara Stumberg took first with a score of 36. Along with sponsoring the sporting clays shoot and providing shotguns for use during the event, Krieghoff has also donated a Semprio rifle fitted with a Swarovski scope, that SCI Foundation was able to raffle off during SCI Convention.