Increase Your Business While Supporting Wildlife Conservation and Outdoor Education
SCIF Hunt Sweepstakes Donation Benefits and Promotions
A sort video from Keegan McCarthy of Alaska Coastal Adventures on the importance of supporting SCI Foundation
Safari Club International Foundation (SCIF) is excited to offer an exciting opportunity for hunting-related businesses and outfitters to reach out to our well-established and highly engaged audience through the donation of hunts and equipment supporting wildlife conservation and outdoor education. Items donated will be given away by sweepstakes as part of a new campaign to grow donations and highlight our "Forever for Wildlife" Monthly Giving program and our enhanced donor recognition program, the Society of the Lion & Shield.
By partnering with SCIF, businesses can receive recognition and exposure at a level compensatory with their level of participation. The Monthly Hunt Sweepstakes's campaigns will be promoted via all available SCIF assets. Although this is a new program, results should meet or exceed those realized in previous hunt sweepstakes shown below.

Participants will see promotional exposure in the following SCIF assets…
e-Mail exposure through dedicated e-blasts as well as e-Newsletters featuring company's logos and active web links sent out to proprietary lists of more than 60,000 e-mail addresses with a frequency averaging a minimum of six touches per address (360,000 total emails) resulting in average open rates in excess of 25% and click rates of 2% per e-blast.
Social Media exposure via SCIF assets (Facebook/Instagram) though boosted posts and dedicated ads featuring donating company's logos and assets. Previous campaigns have realized more than 750,000 impressions with a reach of more than 400,000 unique accounts with 30,000 to 40,000 unique link clicks.
Promotional Video exposure through 30 second video supplied by donor or created in conjunction with SCIF MarCom staff to be promoted (boosted) via social media. Previous videos have received up to 50,000 through plays and more than 15,000 clicks over campaign periods.
Website exposure in the form of prominent ad and logo placement on home page as well as a dedicated landing page featuring company logo and link to company website. Recent campaigns have resulted in more than 7,000 monthly landing page visits.
Popups on SCIF homepage to run intermittently throughout period of campaign directing visitors to website and above assets. Recent campaigns have resulted in up to 5,000 clicks monthly.
Print Ad Placements in Safari Magazine bi-monthly as well as in the monthly Safari Times with circulations of nearly 40,000 per publication, minimum of half-page layout featuring company logo and website address.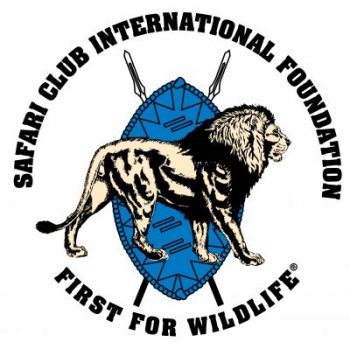 For more information or to become a donor, contact Kimberly Byers at kbyers@safariclub.org or 520-798-4891