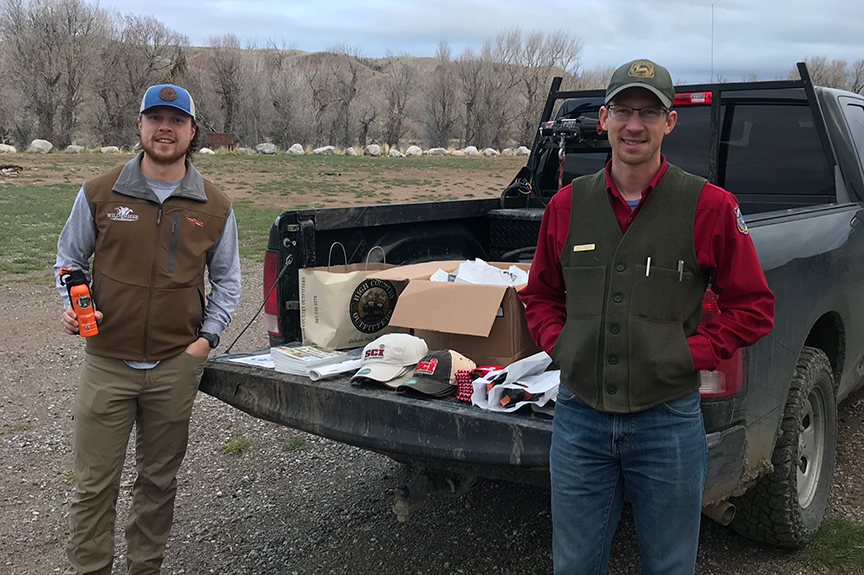 By Joe Goergen
Safari Club International Foundation (SCIF) over the weekend participated in its first bear spray giveaway event with the Wyoming Game & Fish Department (WGFD), publicly launching the organization's new work on grizzly bear conflict mitigation.
Thanks to a recent grant award from the Wyoming Wildlife Foundation's Memorial Bear Fund, SCIF donated 100 cans of bear spray to the WGFD for distribution out of Dubois, WY for the local area's shed hunting season opener on May 15 at the Thunderhead Campground up the East Fork of the Wind River in the Absaroka Mountains.
This year, as a pilot project WGFD permitted 25 shed hunters with 3 guests each onto the Spence & Moriarity Wildlife Management Unit to better manage the influx of humans into grizzly country and any potential impacts to wildlife. The area has been at high risk of conflict, especially as both bears and humans become more active on the landscape during the spring. While luckily there were no incidents this year, a man was mauled last year on this same unit on the opening day of shed season.
"This event is a continued effort by the WGFD to reduce human-bear conflicts in occupied grizzly bear habitat," said WGFD Bear Wise Coordinator Dusty Lasseter. "It's important that anyone recreating in bear country is prepared for a bear encounter and can protect themselves in the rare case of an aggressive encounter."
SCIF has a great partnership in Wyoming, is actively looking for more conservation partners in Wyoming to join and is exploring other funding opportunities to grow this program. Others in involved with and in attendance at the giveaway event included the Western Bear Foundation and National Bighorn Sheep Center.
This Wyoming partnership plans to continue the success of this event with more giveaways across the state in August. An additional 350 cans will be handed out before peak backcountry activity around elk seasons. SCIF also has plans to install backcountry infrastructure such as bear boxes and meat poles in the Shoshone National Forest and to work with other state agencies to expand into southwest Montana, eastern Idaho and throughout the Greater Yellowstone Ecosystem.
The May event represents SCIF's first implementation of its new conservation strategies which also include African leopards and chronic wasting disease. Please learn more about SCIF's grizzly bear conservation strategy here.