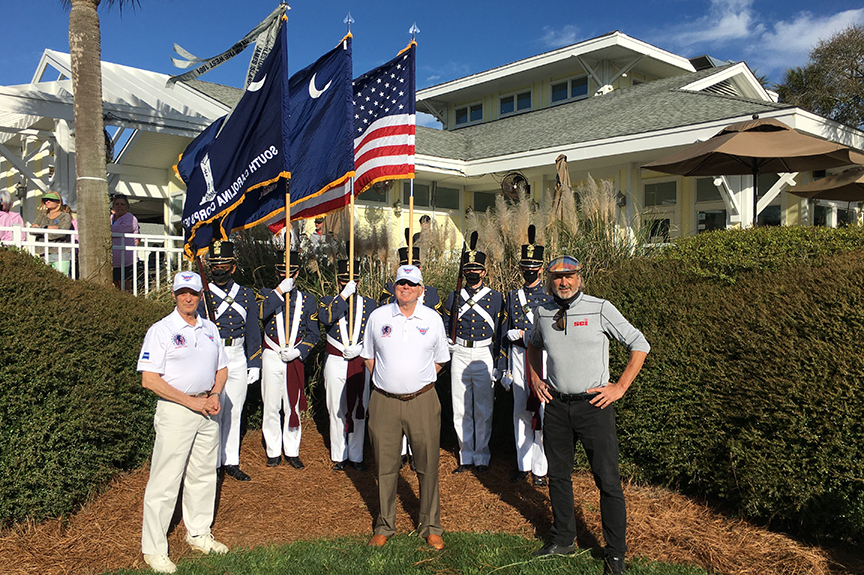 By Gary Gearhart – Veteran's Committee Chairman
During the last weekend of March, several SCI/F officials attended the Jim Shockey Classic at the Wild Dunes Resort in Isle of Palms, SC, including SCI CEO Laird Hamberlin, Secretary John McLaurin, Charlotte Chapter President Brett Eavenson, and myself. SCI Foundation's Veterans Committee complemented the Charlotte Chapter's sponsorship with an additional cash donation and items for the golfers and veteran's swag bags. The Jim Shockey is an annual golf tournament and fundraiser that enables the Freedom Hunters program to send disabled veterans on hunting adventures.
Saturday evening's cocktail party included a meet-and-greet with Jim Shockey, raffles, and a live auction with Les Ohlhauser as auctioneer and I got to be a spotter, which is always great fun. The event was attended by 120 guests, included Jane Horton, a Gold Star Wife who has served as a Senior Advisor in the Office of the Secretary of Defense. Others attending were from the Joint Base Charleston and members of the Charlotte Chapter of SCI. Cadets from the Citadel presented the colors.
Guest speakers included Colonel Herb Wheeler (retired), and Staff Sergeant Tim "TJ" Johannsen (retired) who discussed the impact of service injuries and the subsequent recovery, the including the opportunity to continue hunting through this program. General Paul Funk II spoke on annually transforming 130,000 civilian volunteers into soldiers who are disciplined, fit, grounded into Army values, and combat ready.
Also in attendance was Lieutenant Clebe McClary (retired) who recounted how he rebuilt his devastated life after suffering the loss of his left eye and his left arm. McClary participated in 34 operations and remains firm in his belief that to accomplish all missions one must perform in a superior manner, no matter the obstacles.
Monday was the golf tournament with participants organized into teams of four, with prizes awarded for the winning and losing teams. The SCIF Veteran's Committee provided swag bags for each player and the Charlotte Chapter provided special shirts for SCI members. The SCI/F Veteran's Committee team, after competing with the resident alligator, did manage to win the last place team award. Golf was followed by a BBQ, additional raffle and award presentations. Additional swag bags containing items donated by the Veteran's Committee were presented to 19 veterans by John McLaurin and myself.
Jim Shockey expressed a hearty thank you for the contributions made by the Charlotte Chapter and our SCIF Veteran's Committee. I felt honored to attend this event and highly encourage all SCI members to consider attending in the future if you get the opportunity. I would like to give a special thanks to all of our SCIF Veterans Committee members for allowing me to attend and represent us in the fundraising and recognition of our military.