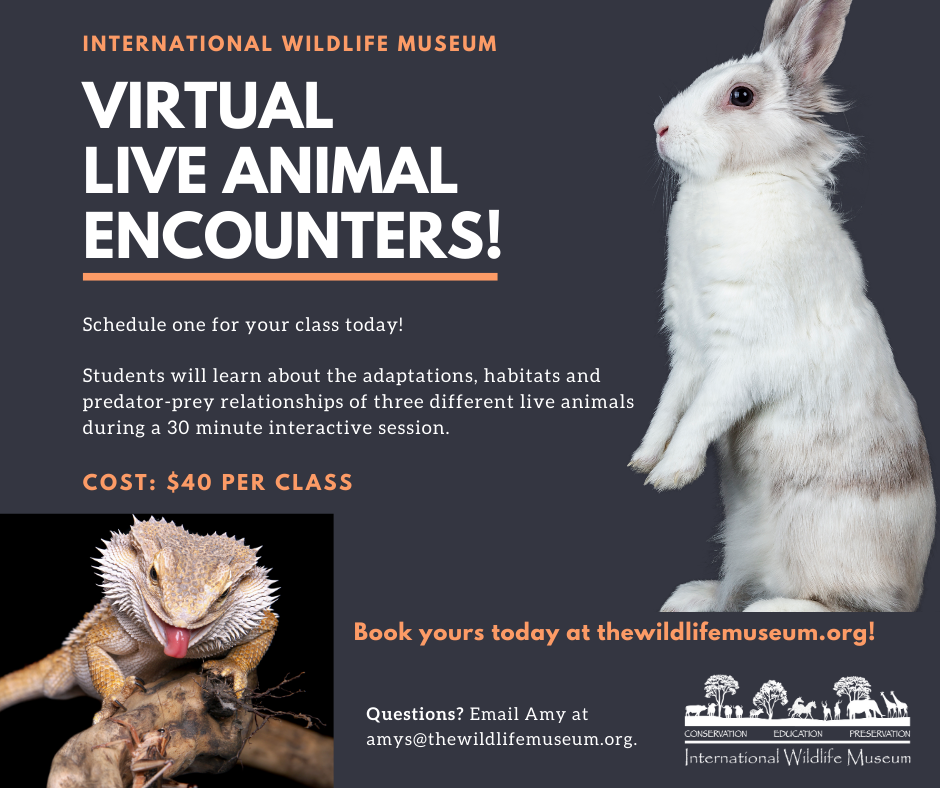 The International Wildlife Museum in Tucson, Arizona has been providing online schools with virtual live animal encounters since December 2020; however, in the past month, the reach of these programs has expanded throughout the country and even into Canada!
The Museum has booked over 100 encounters so far with schools in New Jersey, Pennsylvania, Florida, Ohio, California, Arizona and Canada, reaching well over 2,000 students. The live animal encounters are 30 minutes long and include an interactive meet and greet with three of the museum's live animals. Students may meet a box turtle, Russian tortoise, ball python, desert kingsnake, hedgehog or bearded dragon. They may even get to meet everyone's favorite, Wilbur the Museum Bunny!
Not only does this get the kids excited about seeing live animals, it gets them learning too! During each live animal encounter, they learn about the animal's adaptations, habitat, predator-prey relationships and conservation issues.
Live animal encounters only cost $40 per class, but many schools still struggle with the cost. If you would like to donate a class or more, just visit https://thewildlifemuseum.org/ and click on the Donate button. In the Notes section, you can write that you are donating to cover a Live Animal Encounter. We thank you for your support!