Bell Family Blue Bags
SCI Convention presents a great opportunity for saying hello to old friends you've hunted with before, and of course for shopping and planning your future adventures. Dear to our heart, John and Judy Sholes made sure their next safari includes a day to deliver love and goods to the locals who live with the animals he's blessed to pursue. The Sholes do this out of the goodness of their hearts, in wanting to help spread joy and resources, but an important collateral effect is this type of behavior helps to promote locals wanting more wildlife around (that can sometimes be a nuisance to them) and wanting hunters to come visit them and hunt.
These benefits are good for wildlife populations, good for hunting opportunities, and good for the locals that benefit from having hunters around. And this behavior is not exclusive to Africa.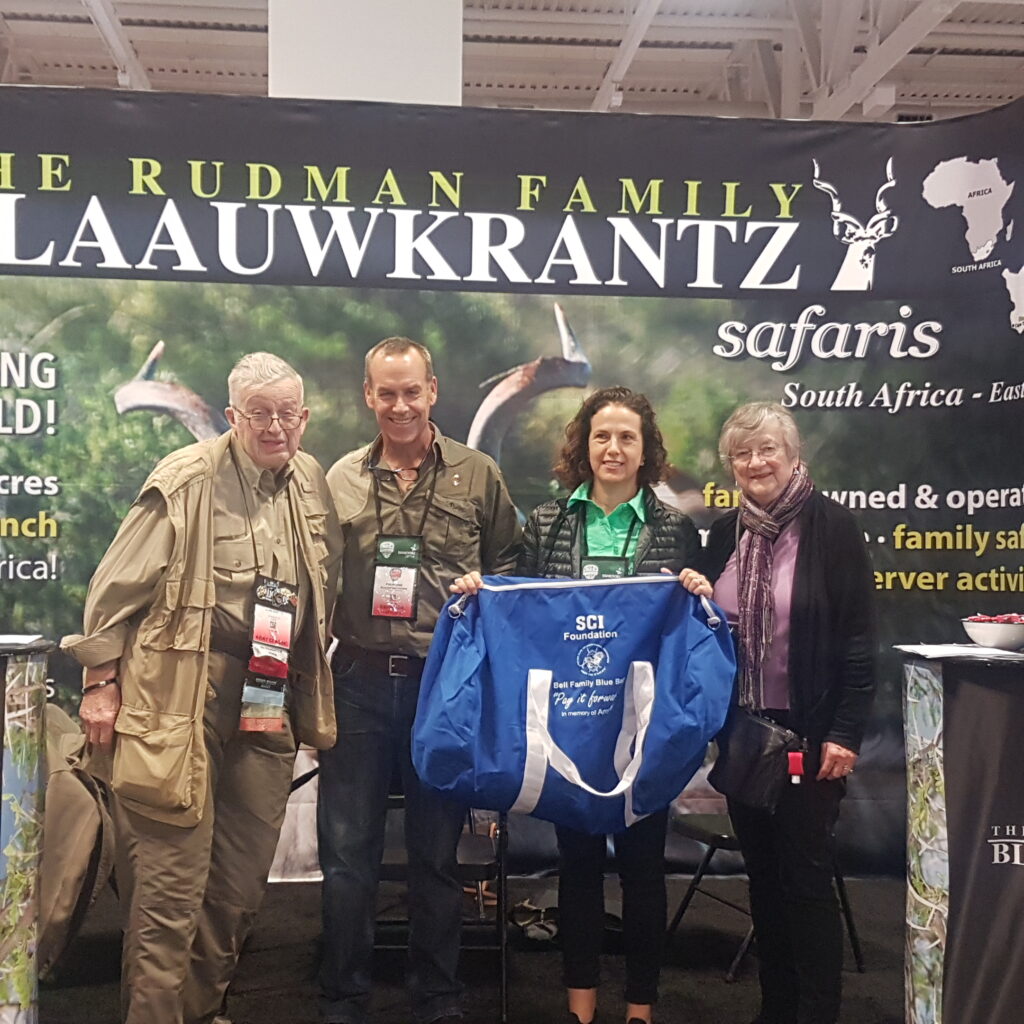 Larry and Ellen Bell started the "Blue Bag" program with SCI Foundation after the sudden passing of their daughter, Amy Bell, who always made sure mom and dad scheduled a chance for her to visit the local children on every trip overseas. Amy's passion for humanitarian aid on her parents hunting adventures was enchanting and ambitious. The result today is through this program we highly encourage all SCI members to follow in Amy's footsteps and Pay It Forward to give back on your hunts overseas.
SCI Foundation helps to communicate with outfitters to familiarize them with the Bell Family "Blue Bags" program, so all you need to do is tell your outfitter you'd like to make this a priority one day, reach out to SCI Foundation to request however many bags you're wanting to fill, and the logistics are taken care of for you to give to your hearts content! You will be amazed how far even $100 can go in some countries and how meaningful that contribution can be. In some instances, $100 can buy much needed new shoes for every child at a small rural schoolhouse. To double your impact we recommend filling the bags at a local store to help you save on travel costs, and to put more money into the local community you're hunting near.
"We all know that hunters are some of the most caring and giving souls on earth. They care about people, they care about the conservation of animals, and they care about leaving the world a better place than they found it. Hunter's throughout the world make a special effort to give back to the communities they are visisitng and hunting on a regular basis. We hope that by spreading the world about this Blue Bag program in a more deliberate way we can bring attention to this pattern of giving where hunters are routinely Paying It Forward to those less fortunate all over the world. We believe that making a significant contribution to this important Foundation project will continue Amy's legacy of "Paying It Forward" and draw attention to the giving spirit of our SCI family."

Larry Bell – SCI Foundation Supporter & SCI Life Member
Another great example from John Sholes took place last year. John wanted his SCI Chapter to help make a donation to an outfitter he had hunted with in the past. Without even going to Africa, The National Capital Chapter of SCI allocated a couple hundred dollars, arranged for us to send Blue Bags to his outfitter, and they sent funds for the outfitter to fill and deliver the bags on their behalf.
We always recommend working with your chosen outfitter to ask them what types of supplies would be most appreciated by that local community at that time. In this case, the outfitter filled the bags with medicine, school supplies, and candy for the Palmiet River School near Port Elizabeth, South Africa. In other instances, we've learned soccer balls always seem to be a big hit! Thank you Blaauwkrantz Safari's for helping to receive, fill, and deliver these resources even when you didn't have this hunter in camp, and thank you Judy and John Sholes, and SCI National Capital Chapter, for making it happen.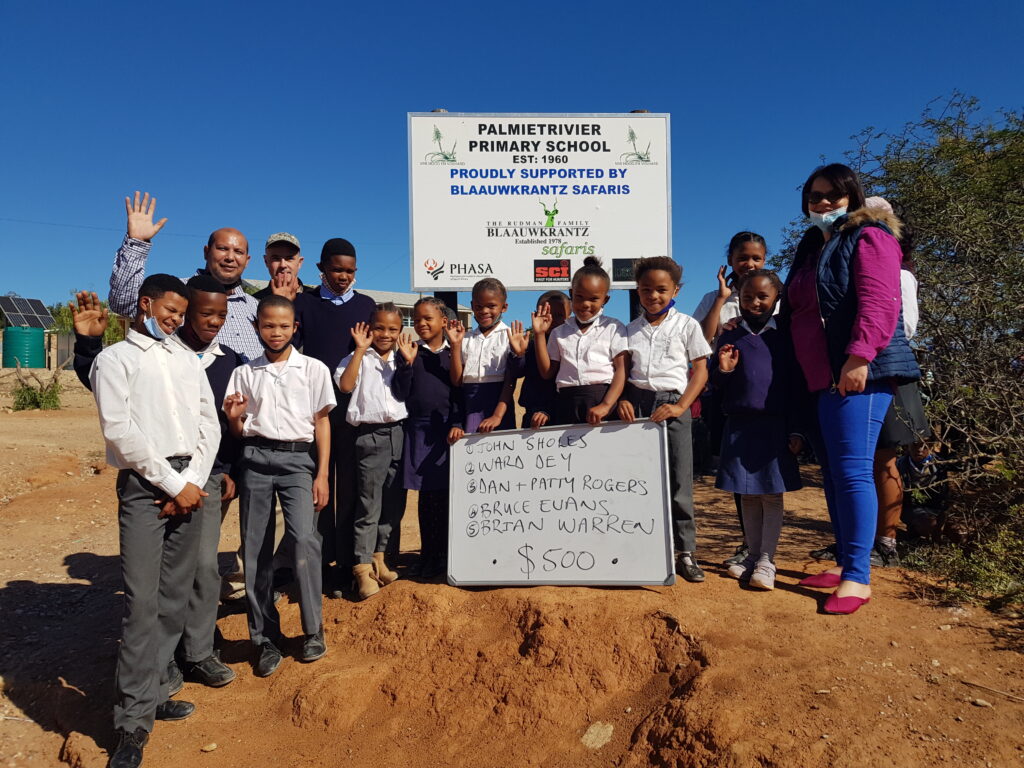 For a list of supplies, to order Bell Family Blue Bags, or receive information on delivering humanitarian aid to those in need, contact Katie Robinson at KatieR@SCIFirstForHunters.org or (520) 798-4890.
Learn more about this program at: https://safariclubfoundation.org/bell-family-blue-bag-program/