African Wildlife Consultative Forum (AWCF)
AWCF has been SCI Foundation's signature program in Africa since 2001. AWCF is an annual capacity building venue for communications on common approaches to conservation challenges and creating a continent wide strategy for wildlife management.
The AWCF brings together senior government officials, professional hunting association leadership, the USFWS, international policy experts and wildlife biologists to tackle the most pressing sustainable use issues in Africa. While 2019 produced several action items and other important takeaways, the most valuable aspect of AWCF continues to be bringing together African stakeholders, government to PH together with the USFWS, and the relationships built under the SCI Foundation banner. AWCF continues to be SCIF's flagship activity in Africa and one of the most valuable events for the Safari Club community, making us leaders in the international arena.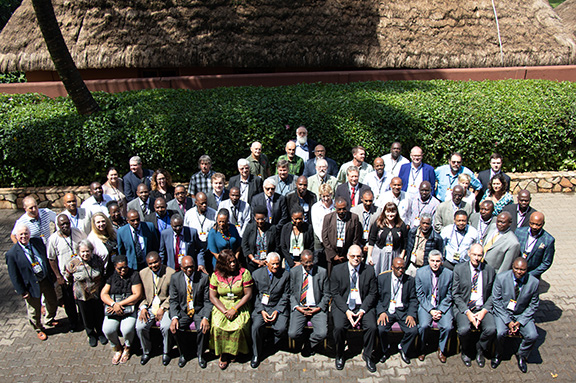 SCI Foundation Hosts 16th African Wildlife Consultative Forum in Uganda
The Conservation Department at SCIF hosted the African Wildlife Consultative Forum (AWCF) in Kampala, Uganda from November 12-16, 2018. This marks the 16th meeting of African governments, professional hunting associations, community-based sustainable use organizations, and wildlife management experts. As one of our flagship activities in Africa, the AWCF represents a unique opportunity for open discussion and sharing of experiences and ideas among African states interested in sustainable use of their wildlife resources.
This year's AWCF featured representatives from ten different African nations, including Botswana for the first time since 2014. We also appreciated the presence of a delegation from the US Fish and Wildlife Service to discuss CITES issues and importation permits. The agenda included a variety of sustainable use topics such as: CITES regulations and permitting, lion and leopard surveys and management, anti-poaching efforts related to elephants and rhinos, and community-based conservation approaches.
The AWCF also highlighted hunting and sustainable use in Uganda. Uganda is home to abundant wildlife resources and a growing hunting industry. The Uganda Wildlife Authority was a gracious partner and co-host for the meeting. Dr. Akankwasah Barirega, Commissioner of Wildlife Conservation, served as our local chair and we were pleased to have the Honorable Minister of Tourism, Wildlife, and Antiquities, Dr. Ephraim Kamuntu, preside over the official conference opening. The meeting also included a field trip to the Uganda Wildlife Conservation Education Center and informal opportunities to experience the beautiful country and gracious people of the "Pearl of Africa".
With ongoing threats to sustainable use of wildlife resources in Africa, including anti-use groups in North America and Europe and increased illegal killing of many wildlife species, the AWCF is more important than ever in helping to maintain connections among various parties interested in maintaining this vital component of conservation. The SCI Foundation is proud to make this possible through the generosity of our donors and supporters. Zimbabwe has agreed to host next year's meeting near the internationally famous Victoria Falls. We will be working to make the 17th AWCF even more useful and productive, because SCIF is First for Wildlife.
Want to learn more about the AWCF?  Watch this video.
Since 2000, SCI Foundation has provided more than $80 million to promote science-based conservation through wildlife research, capacity building in governments, youth and teacher education, and humanitarian programs that show the importance of the hunting community in society around the world. Growth of SCI Foundation has continued to gain momentum through charitable donations from SCI members and direct grants from local chapters and the SCI organization. Throughout the world, SCI's approximately 50,000 members and 190 chapters contribute time, talent, and financial support to local, national, and international projects.