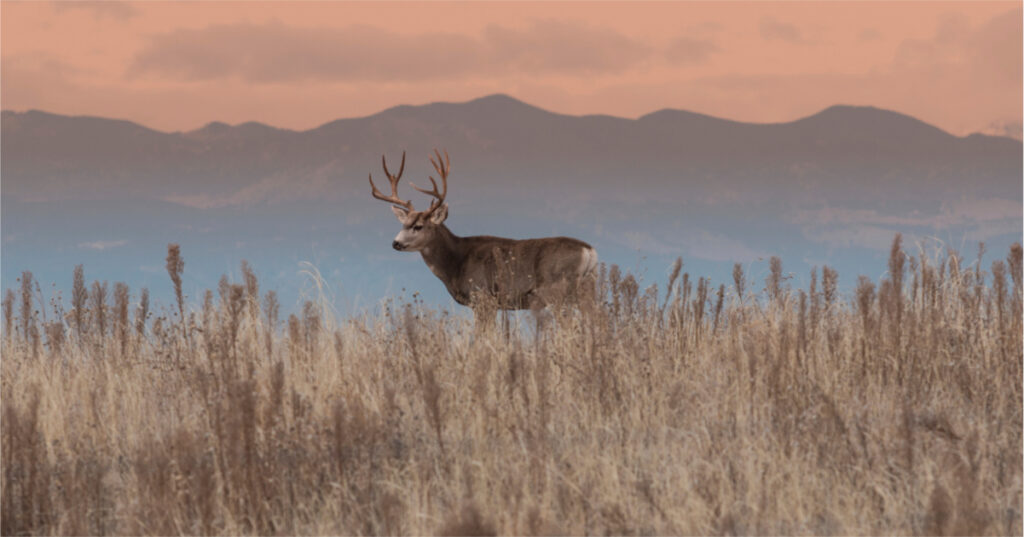 As part of SCIF's program to provide youth hunting opportunities, SCI Foundation recently received two donated New Mexico Deer licenses. Any SCI youth member or their friend could apply for these special New Mexico mule deer hunts during this November hunting season. A youth had to get their parent's permission and send in a one-page essay to SCI Foundation about why he or she wanted to go on this mule deer hunt. We received some great essays from some enthusiastic youth hunters. It was a difficult decision, but we ultimately chose 13-year-old Connor Goecke from Nevada as the first essay contest winner. Congratulations Connor on winning the essay contest and first mule deer hunt!
Connor's essay (attached below) did a great job on stating why he wanted to hunt deer including the opportunity to harvest his first mule deer. Selected for the first donated deer hunt, Connor will get to hunt the Burro Mountain area in Unit 23 near Silver City, New Mexico. This unit is a mountainous region with lots of pinion and juniper and is considered a prime deer hunting area with deer dispersed throughout the unit.
In a happy twist of fate, the SCI Foundation received a second donated deer license. This allowed us to choose another youth from our applicant essay list. Our second hunter will be 16-year-old Jake Snitily of Washington State.
Providing hunting and outdoor experiences to youth, veterans, and disabled people is a fundamental component of the SCIF Humanitarian Services and Education missions. These licenses are donated to SCI Foundation because of our 501(c)(3) status and our conservation education mission. This mission is consistent with the New Mexico State Game Commission's desire to have special draw licenses that are awarded but can't be used go to youth or veterans as allowed by state rules. These licenses cannot be sold or auctioned, and no fee can be charged by the Foundation. However, we are passing on our conservation education mission by ensuring a hard to obtain draw license is used by a deserving hunter. Furthermore, two young people will now get the experience of participating in the North American Model of Wildlife Conservation by actively participating in the harvest of our most iconic Western game species, the mule deer.
At the time of this writing, both young hunters were in the field so no results on the harvest were available, however, we wish them the best of luck and happy hunting. Below is the winning essay by Connor Goecke.
Hello, my name is Connor Cougar Goecke. I enjoy hunting, and I would really like to go on this New Mexico non-resident mule deer hunt donated by SCI. I have many good reasons why I want to go on this hunt and I'd like to share a few of them with you.
The first reason why I would love to go on this hunt is purely for the experience. It's really enjoyable to walk through the wilderness with a family member by your side. Hunting is exciting, rewarding and full of adventure, from tracking an animal, the stalk and finally the shot. Not to mention, it jams all of that and more into only a few days, and that's something you can't usually find in your everyday life. Oddly enough, hunting has also taught me the exact opposite of adventure, thrills, and excitement, UGH, patience.
My second reason why I would love to go on this hunt is because it would allow me to spend more time with my papa. I haven't been able to spend as much time with my family lately as I would like to, due to school and the current COVID situation. I am usually busy with schoolwork, I get straight A's, and it keeps me very occupied. If I get to go on this hunt, I would be able to spend a whole week with just my papa. I am fortunate to have a family that enjoys hunting and the outdoors. We travel a lot as a family, and go to lots of new places, but we have never been to New Mexico. This opportunity would give me the perfect reason to check off another state and see what New Mexico is all about and has to offer my papa and I. When my mother told me about this essay contest, I did some research on New Mexico. The Gila mountains look beautiful, and I think, regardless, if I win the hunt or not, hopefully, my papa, mother, my baby sister, Collins, and I, could go camping there someday.
The third, final, and most important reason why I would love to go on this hunt is because even though I have been on many successful hunts with my papa, I haven't been fortunate enough to harvest a mule deer yet. If given the opportunity to kill a mule deer in New Mexico, I would be able to help feed my family at the young age of 13, how cool is that? I especially enjoy trying all types of new food, but so far, the mule deer has been elusive to me. We came close in Wyoming last year, but as Papa usually tells me with mule deer, we were outsmarted. I have eaten all sorts of strange foods in my life and I am not afraid to try anything new. We were even given the opportunity to eat African lion once. I'm pretty sure you can imagine how it tasted! Lastly there is the trophy to admire. It marks your hard work and success during the hunt, and it feels great to see it on your wall.
Those are some of my reasons why I really want to go on this incredible hunt that SCI has donated. My Papa and I go to the big convention every year in Reno and Las Vegas and I appreciate what SCI does for us young hunters. It would mean the world to me if I could get the privilege to go on this extraordinary hunt of a lifetime.