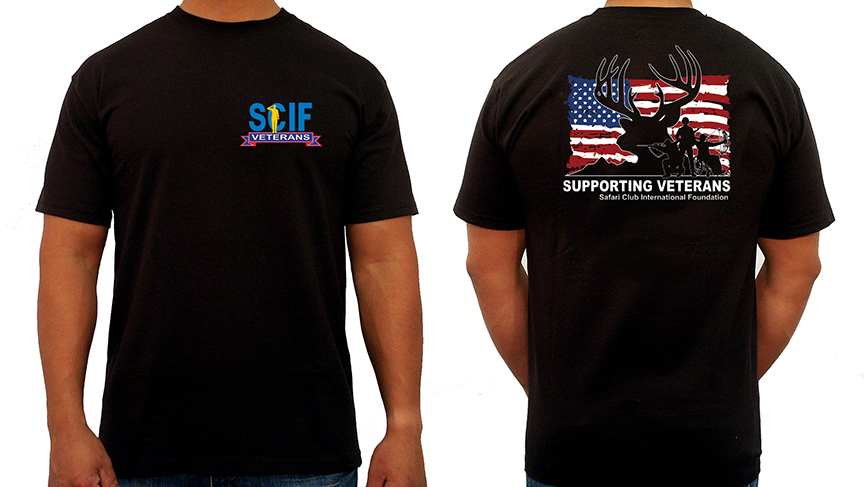 SCI Foundation has ordered a limited supply of t-shirts in appreciation of veterans. For a limited time only, SCI Chapters holding a veteran's event this fall can order free t-shirts to give out to veterans who attend. Chapters are eligible for this offer whether the event is a hunting experience or social gathering honoring veterans for their service. This is a first come, first served offer and supplies are limited.
The 2021 Annual SCI Convention Veterans Breakfast is another way that SCI Foundation honors those who give their lives for our freedoms. The SCIF Breakfast Honoring Veterans is made possible through Trijicon's generous sponsorship and the dedication of the SCIF Veterans Committee. The SCIF Veterans Breakfast, which includes a live auction and sweepstakes items, will be held at the Las Vegas Convention Center on Friday, February 5, 2021. All SCI members are welcome to attend the breakfast. Because of Trijicon's sponsorship, all veterans who select a ticket through SCI's online Convention Registration page attend the breakfast for free. Non-veteran ticket price is $40.
To order t-shirts for your SCI Chapter veterans event, contact Karen Crehan at kcrehan@safariclub.org or (520) 618-3530. Supplies and quantity of sizes are limited so this is a first come, first served offer. Thank you, Veterans, for your sacrifice and support of our country and our way of life.