R3 SYMPOSIUM
SCIF and Hunter Recruitment, Retention and Reactivation
By: Todd Roggenkamp
SCIF's mission to ensure the future of wildlife through conservation, education and hunting lends itself to being involved and active with what is happening in the world of hunter recruitment, retention, and reactivation (R3).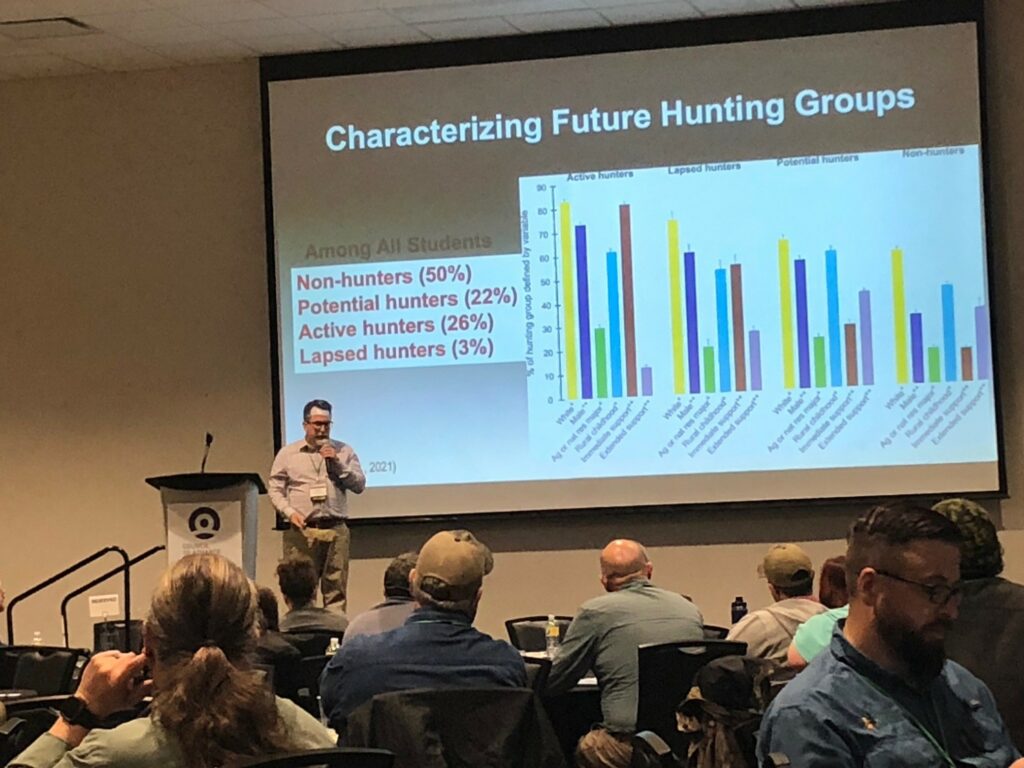 To stay current on the latest trends in R3, SCIF Assistant Director of Education Programs Todd Roggenkamp recently attended the National Council to Advance Hunting and Shooting Sports (NCAHSS) R3 Symposium in Broken Arrow, OK. Over 200 R3 professionals from state game agencies and non-governmental organizations from all over the country gathered to hear about the latest updates with R3 research and programs from the council and its guest speakers and organizations. Presentation topics included Hunting Participation Trends, Improving Mentoring through Sound Science, Resident License Rates for College Students, Quality and Availability of Hunting and Shooting Access in the US, and Portrayal of People of Color – Stereotypes and Opportunities.
A key highlight from the symposium was the focus on encouraging more diversity in the hunting world. Several presentations illustrated successes and challenges associated with doing this on a large scale. One study from North Carolina State University found 42% of college students in R3 programs were women (about 20% of all hunters are women). Furthermore, 27% of students were non-white and 83% were from cities/urban areas. Interestingly, 50% stated being closer to nature and supporting conservation were their top motivations to hunt. Perhaps most encouraging, 50% of participants stated they would hunt in the future. One concern identified from the study was that the current conservation culture creates persistent challenges for underrepresented groups. They encouraged state agencies and non-governmental organizations to continue providing more opportunities for diverse and underrepresented groups.
For example, hunter participation trends show license sales from 46 states exhibited a 1.9% decline overall from 2019-2020 to 2020-2021. Additional findings reflected a 4.0% decline in resident licenses sold overall, but a 12.9% increase in non-resident license sales. The largest declines in license sales included 14% declines among women and young (18-24 years old) hunters.
Studies suggest accessibility of land to hunt, remains an important factor in hunter participation, with 45% of hunters identifying access as an important reason they hunt less. Access issues included not having any land to hunt on, crowding on public land, land being leased to others, posted land, the cost of access, and travel distance.
One way to help increase hunter participation and help overcome access barriers is through mentoring programs. Some key points regarding mentoring programs for hunter recruitment included the demographic diversity of the mentoring group, focus on safety, the availability of e hybrid programs (i.e., online/in person) and evaluation of program success. Surveys revealed that 37% of those interested in participating in hunting and 46% of those interested in target shooting have previous experience; however, they lack skills and confidence to participate independently. Some data indicate that terms such as instructor and student are preferred over mentor and mentee. Another key factor was to ensure that programs provide the necessary supporting materials and bonding opportunities for recruitment to be successful.
There were a multitude of breakout sessions also available covering topics such as license fees, strategies on getting hunting laws changed, latest trends in shooting sports programs, and many more topics related to R3 programming.
In addition to information the symposium provided opportunities for SCIF staff to share ideas and challenges with like-minded organizations in the hunting and conservation space.
If you would like more information about R3 or to review any of the available presentations, please contact Assistant Director of Education Programs Todd Roggenkamp at troggenkamp@scifirstforhunters.org or 520-954-0664.