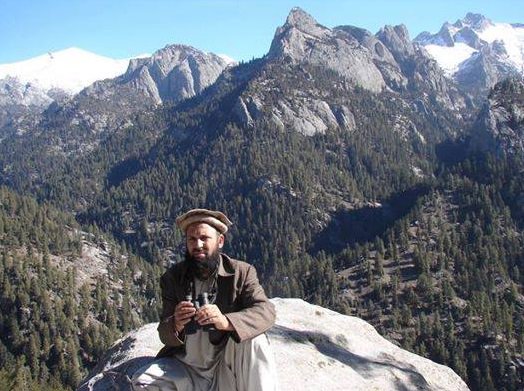 By Joe Goergen
Safari Club International Foundation, while well known for its work in Africa, is also heavily involved in the conservation of wild sheep and goats in central Asia. We have, for example, been at the forefront of argali surveys for many years in Kyrgyzstan, Mongolia and Tajikistan, and are the only NGO with such a large capacity and long history in this region. One of our most exciting projects in central Asia has been the community-based conservation of markhor in Pakistan.
Markhor are monarchs of the mountains. They are the pinnacle of international mountain hunting, offering an exotic shikar experience. This wild goat species is also a cultural icon of Pakistan, the country's national mammal, and is critically important to the region's alpine ecosystem as one of the only abundant prey animals for the endangered snow leopard. Populations exist in pockets of rugged remote mountain ranges near communities with deep cultural ties to the land and little exposure to the outside world, making working in wildlife conservation there very difficult.
Early trophy hunting programs in Pakistan were pioneered by the world renowned Torghar Conservancy, which turned local poachers into game guards through incentives from revenue from hunting permits. This community-based trophy hunting program proved to be a great success. SCIF, through its partners on the ground with the Wildlife Conservation Society, has expanded the model to the northern Gilgit-Baltistan tribal area where there are now more than 65 legally registered community-based natural resource management organizations and over 100 anti-poaching rangers deployed.
Strengthening community governance structures and promoting local ownership over sustainable natural resource use is a crucial first step to building more capacity for wildlife management activities. These communities are trained to monitor markhor populations, fully run trophy hunts and operate independently across large, isolated areas. Population surveys are required by the government to issue a permit, enabling communities to then benefit from hunting tourism.
80% of trophy permit fees are retained by the local community, which has created a powerful incentive for conservation and led to significant livelihood improvements and community development projects. Together, the areas where SCIF has been active support some 400,000 rural villagers.
Last year and for the first time ever, all four annual hunting permits for the Gilgit-Baltistan province under the CITES export quota were utilized as a result of population surveys in new community areas. Thanks to the hard work from building capacity, protecting wildlife and monitoring populations, these successful hunts represent a huge investment in markhor recovery.
Now, more and more communities are interested in getting involved and the program is growing. Licenses are being issued for ibex and the country is looking at a test permit for Ladakh urial too. New resource management organizations are being formed and additional rangers trained. Still, there are many challenges to working here and more robust surveys will be needed to increase the CITES quota for new areas, but we are encouraged by the program's success in recovering markhor numbers and contributing to community development.
Community-based markhor trophy hunting is a true conservation success story. This success was demonstrated by the IUCN's most recent Red List assessment, which downgraded markhor two categories from Endangered to Near Threatened in Pakistan. The IUCN also recognizes these conservancies as an international case study for the positive benefits of trophy hunting. Indeed, markhor populations are actually limited in Pakistan to areas with sustainable hunting programs.
SCIF's work in central Asia shows our far-reaching impact. We will continue to promote community-based conservation in Pakistan, into Tajikistan and other parts of markhor range, ensuring the sustainability of the dream of wild sheep and goat shikar hunting well into the future.
Joe Goergen is the Conservation Manager for SCIF. For more information, contact him at jgoergen@safariclub.org, (202)-774-0440