Vietnam Ungulates Project
Vietnam has seen a recent decline in ungulate population size and distribution without any clear explanation. SCI Foundation and the Leibniz Institute for Zoo and Wildlife Research are studying ungulate species in the Central Annamite Range to understand all factors that may be influencing their survival.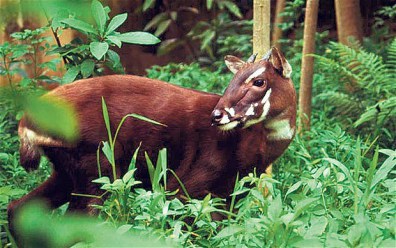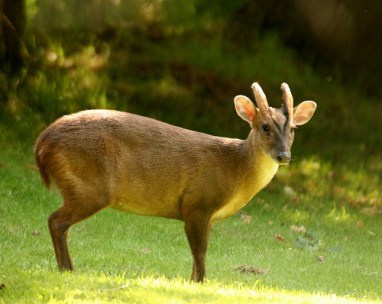 Vietnam Ungulate Project (2014-Present)
Over the years, the distribution and population size of all ungulates in the Annamite Range (an isolated mountain chain in Vietnam) have severely declined from their historic levels. Snares, typically set by local villagers to catch wild pigs or other small mammals, are the primary culprit behind the decline. These traps frequently catch unintended prey, such as the endangered Large-antlered Muntjac, a deer like species native to Asia.
To save the remaining ungulate populations, it is urgent to enact effective anti-poaching measures in areas where they survive. This goal is hindered by a lack of information on species distribution and the status of ungulate populations, like saola, a primitive cattle species and muntjac.
To successfully conserve these ungulate species wildlife biologist must first understand where target species exist on the landscape. Recently, SCI Foundation funded a new project to aid in this research. SCI Foundation has partnered with the Leibniz Institute for Zoo and Wildlife Research to gather more information on ungulate species in the Central Annamite Range. Population and distribution studies are being conducted in Bach Ma National Park, Quang Nam Saola Reserve and Thua Thien-Hue Saola Reserve to understand all factors that could influence their survival.
The project will deploy two complementary methods to detect the region's ungulates. The first is camera-trapping. Camera traps are used to study elusive species. They can detect the presence of target animals over large areas with relatively little effort and can also provide vivid images.
The second method is a fascinating. It is a recently developed genetic method of analyzing the gut contents of terrestrial leeches. Lab work has shown that DNA can be detected in 84% of leeches for up to four months after feeding. Leeches are easily collected in the study areas' evergreen forests and provide a vast array of samples of the forest's biodiversity.
Only by understanding species' distributions and by gaining insight into the factors influencing them, can researchers and biologist allocate limited resources to better conserve these species. The techniques used to produce this knowledge will supply the tools needed to evaluate the impact of snare removal and other management actions within a monitoring program. The new leach technique will also gather data on the genetic diversity of the Central Annamites' ungulates, an important aspect of conservation usually neglected in biodiversity monitoring.
This project will hopefully provide a model for gathering the data necessary to conserve other suites of species in the region. Additionally, this project will directly benefit local communities by providing both employment and training throughout the surveys. Through this work the local people will learn how much these ungulate species contribute to biodiversity. Many of these people depend on biodiversity for their livelihoods and this project will be a great way to place a value on conservation and ensure a future for ungulates in Vietnam.
Since 2000, the SCI Foundation has provided more than $80 million to promote science-based conservation through wildlife research, capacity building in governments, youth and teacher education, and humanitarian programs that show the importance of the hunting community in society around the world. Growth of SCI Foundation has continued to gain momentum through charitable donations from SCI members and direct grants from local chapters and the SCI organization. Throughout the world, SCI's approximately 50,000 members and 190 chapters contribute time, talent, and financial support to local, national, and international projects.