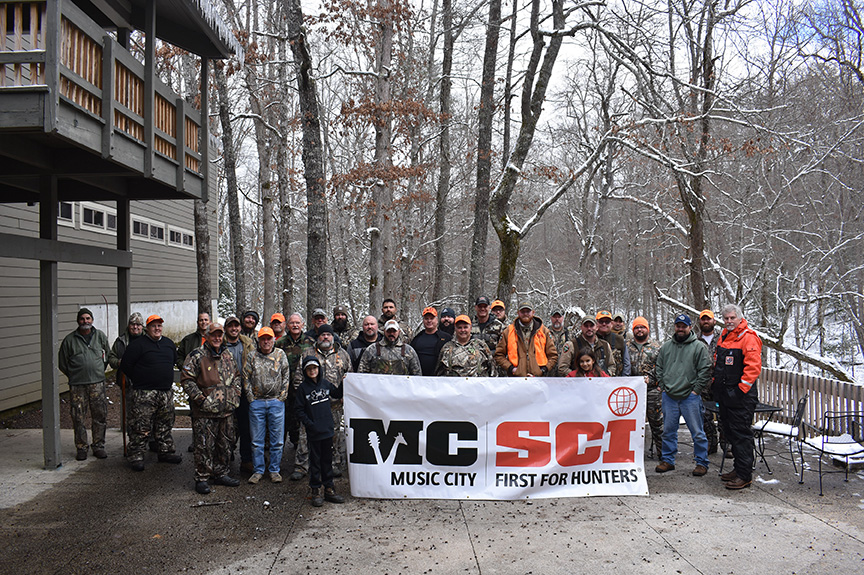 Fifteen deer were harvested at Music City's 7th Annual Jim Hall Hunts for Warriors at Tennessee's Fall Creek Falls State park the first of December. Held annually, the chapter brings 15 combat wounded veterans to the park and furnishes food, lodging and guides for the three-day event.
Pop up blinds were strategically located in isolated areas of the Park's golf course. Chapter members along with officers from Tennessee Wildlife Resources Agency volunteered to serve as a guide for each of the participants. In addition, prizes were awarded for a doe harvested closest to 80 pounds. The winner actually was able to shoot one that was 80.00 pounds. Others taken were 77 and 82 pounds.
The hunt was named Jim Hall, Park Manager, by The TWRA Wildlife Commission to honor Jim who was instrumental in agreeing to allowing the hunts to take place in areas of the park closed during the drawn hunts for others.
One such hunter, LJ Planner, spoke on stage at convention a couple years ago about how the hunt changed and saved his life. He was on stage speaking prior to the Pathfinder Auction.
To view the inspiration video on the event, visit https://www.facebook.com/musiccitysci.org/videos/456911658629712/