Jackie Bartels Memorial Youth Pathfinder Hunt
2019 Youth Pathfinder Award Winners – Anthony Brayall and Maisy Martindale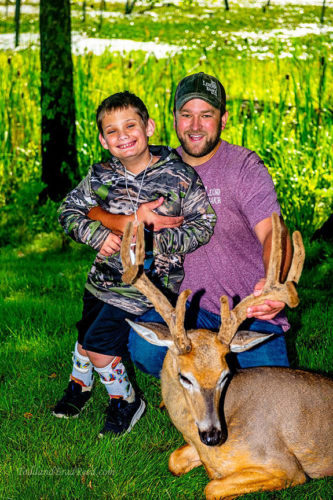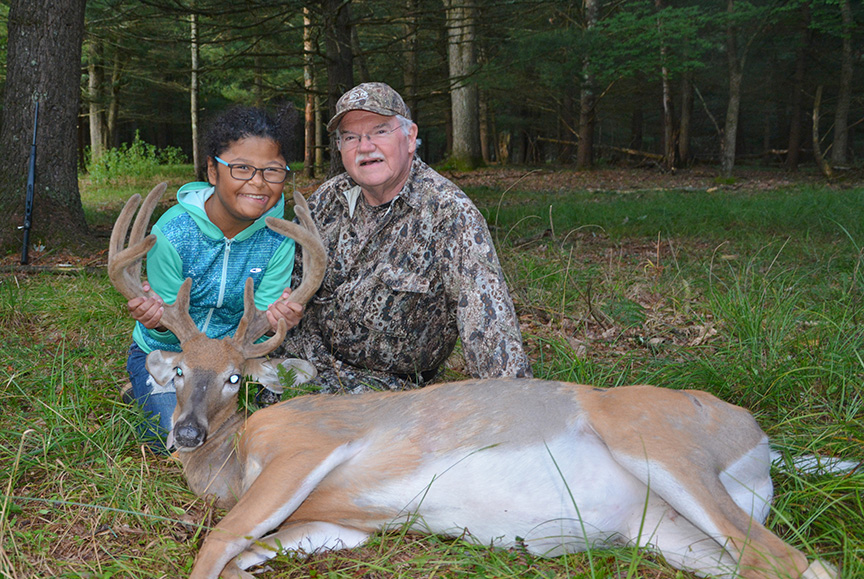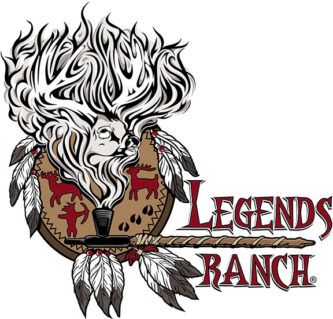 Legends Ranch Hosts Special Youth Challenge Hunts for SCIF Youth Pathfinders
By Randall Bush, Humanitarian Services Chair
Legends Ranch in Bitely, Michigan offers a Special Youth Challenge Hunt for four to six youth each year at the start of the season. In the two years since SCIF's Youth Pathfinder Program was developed, we have funded travel expenses for disabled, handicapped or terminally ill youth under the age of 18 and their caregiver to travel to the Ranch as well as shipment of their trophy after the hunt. The committee thanks Randy Flanery of Westwind Taxidermy for providing the taxidermy work free of charge.
This year the hunt took place August 27-30, 2019. I was fortunate enough to be with these youth for the hunt. This was my third time to take part in this hunt.
The recipients of the SCIF Youth Pathfinder Award are Anthony Brayall, a young man with spina bifida and over 50 brain surgeries, and Maisy Martindale, who has had over 30 surgeries and lives with a pacemaker. Both were very much a pleasure to be around. One of the things that I remember most about Maisy is when we picked them up at the airport in Grand Rapids. I looked at Maisy and said, "You must be Maisy." She said "Yes I am." I offered a handshake and she came back with, "Now, can I get a hug?" Anthony's big thing was going around tagging everyone saying, "You're it." He never tired of this.
The youth were provided the opportunity to go to the range and site and fire their rifles to make sure they were still zeroed after travelling and, for some, to familiarize themselves with the firearm that was provided by the Lodge.
Our first morning out, I went with Maisy and her dad, Mark, and our guide, Sam. I was there to video the hunt and to write about the experience. Some of the buck deer that we saw were awesome, scoring 200" or better. After watching numerous big bucks, two management bucks were sighted. They were almost identical in size. One offered a better shot, so he was the one that Maisy chose to harvest. At the shot, I could see that it was perfect. The buck deer started to run, but I told Maisy that she had gotten him. The deer ran less than 20 yards before going down. I was able to capture all of this on video.
Unfortunately, I was not with Anthony when he harvested his deer. It, too, was a beautiful 10-point buck and looked almost identical to Maisy's buck. His guide, Greg, made sure that everything went well on the hunt and that Anthony got his deer.
The hunt was an exceptional experience for our Youth Pathfinders and will live in their memory for the rest of their lives. The Legends Ranch is hard to describe adequately. In my opinion the lodge is 5-Star all the way, but what really makes the total experience is the staff. They all exemplify what true humanitarian services are all about. Our thanks go out to Robert Sergi and the people at the Legends Ranch and the Hunter Legacy Fund for making these hunts possible.
2019 Youth Pathfinder Award Winner – Remembering Nate Wagner
Remembering Pathfinder Youth Award Recipient, Nate Wagner
By Dan Brooks
Nate Wagner, a sixteen-year-old young man with a life-threatening illness, was awarded a special elk hunt in New Mexico by Safari Club International Foundation. The New Mexico elk license was awarded by a Foundation committee who chose Nate as the recipient of this hunt.
Nate was born on Christmas day in 2003. He was very athletic in school, playing basketball and lacrosse. Four years ago, he developed a form of cancer called Neuroblastoma. This is rare as it usually does not affect boys and girls that are in their teens. Nate went through numerous treatments; however, they could not halt the cancer.
Nate has a passion for hunting and fishing, and he took his first whitetail deer two seasons ago.
He was informed of being selected to go on the New Mexico hunt and, he was excited and commented, "This is really cool". Nate and his dad, Rich, came out to the Magdalena area to hunt elk last October. They hunted with Eric Kern using a specially made .280 Ackley rifle custom made by Eric. The hunt was a great success with Nate getting his elk. The Foundation made all the arrangements to get the taxidermy work for the elk and have the meat shipped back with Nate and his dad, so they could enjoy meals of delicious elk.
After going through more cancer treatments, Nate passed away on a Monday evening, March 30. It is a deep sense of loss not only for the family but all our humanitarian committee members and supporters. Our condolences to Nate's family and friends. We are so happy we could be part of his young life, even if it was only for one hunt.
2018 Youth Pathfinder Award Winner – Jena Bartenhagen
SCIF Pathfinder Committee Awards Elk Hunt for Terminally Ill Child
Jena Bartenhagen, a special young lady suffering from brain cancer, realized her dream of hunting elk when she became the recipient of the Jackie Bartels Memorial Youth Hunt. Jena wanted to hunt elk for a long time but couldn't because of debilitating hearing loss, physical instability, fatigue and severe pain caused by her illness. Jena had been scheduled to go on an elk hunt prior to this opportunity but, after recovering from one of her many surgeries, she learned that the hunt was no longer available. For Jena, the hope of hunting elk seemed to be impossible due in part to her need for medical treatment. But, the impossible became possible through a chance encounter with Brigid O'Donoghue, founder of United Special Sportsmen Alliance, Inc., while Jena was in the hospital. Brigid fell in love with Jena and recommended her to Randall Bush, SCIF Humanitarian Committee Co-Chair, knowing the great work he and the Pathfinder program does to make disabled youth hunts possible. Thanks to the SCIF Pathfinder
Committee, Jena's elk hunt of a lifetime came true when Rulon Jones, owner of Broadmouth Canyon Ranch donated a special elk hunt.
2017 Youth Pathfinder Award Winner – Tanner Sprague
Tanner Sprague, an 11-year-old that is an avid hunter, was diagnosed with Osteosarcoma (Bone Cancer) in his right arm last year. He was awarded the first ever Jackie Bartels Memorial Youth Pathfinder Hunt. This hunt was awarded by the SCIF Pathfinder Committee after much deliberation and some stiff competition from nine other deserving youths with life-threatening conditions.
In Tanner's case, he has undergone several surgeries and numerous chemotherapy treatments, all of which have helped him to be a cancer survivor.
When told Tanner's story, Carlton Armstrong of Armstrong Outdoor Adventures, LLC., located in Quemado, NM jumped at the chance to take young Tanner on an elk hunt. This was a special hunt, designated by New Mexico Game and Fish where only 2 licenses are awarded each year and Tanner had one of them. The arrangements were made and Tanner accompanied by his dad Shane were set to hunt elk in the Gila the last week in September, a great time to hunt and stalk big bulls.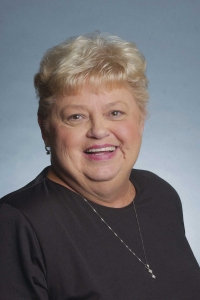 Jackie Bartels Memorial Youth Pathfinder Hunt
This hunt is being established by the SCIF Pathfinder Committer to honor Jackie Bartels who passed away March 25, 2017. Jackie devoted enormous time and support to wildlife conservation, outdoor education and humanitarian services projects. She was a Life Member of Safari Club International and financial supporter of SCI Foundation's Humanitarian Services Programs. Jackie and her husband Ron received conservation awards including the prestigious Beretta and SCI Foundation Conservation Leadership Award, Louisiana Ambassador to Conservation Award, SCI's Diana Award, the Arthur Van Pelt Award, and was honored by Ducks Unlimited. Over a span of 22 years, Jackie dedicated time to SCI Foundation's Sensory Safari Program, enabling sight impaired, disabled and under-privileged children and adults the opportunity to learn about animal species through touch and hearing. It is estimated that Jackie and her husband Ron provided this valuable learning experience to over 76,000 individuals.
Download Here: Pathfinder Youth Hunt Application 2022
If you have any questions about the Pathfinder Youth Hunt Application please contact:
Katie Robinson, Education and Humanitarian Services Manager
520-798-4890 or Katier@SCIFirstForHunters.org.
Since 2000, SCI Foundation has provided more than $80 million to promote science-based conservation through wildlife research, capacity building in governments, youth and teacher education, and humanitarian programs that show the importance of the hunting community in society around the world. Growth of SCI Foundation has continued to gain momentum through charitable donations from SCI members and direct grants from local chapters and the SCI organization. Throughout the world, SCI's approximately 50,000 members and 190 chapters contribute time, talent, and financial support to local, national, and international projects.