2023 Pathfinder Announced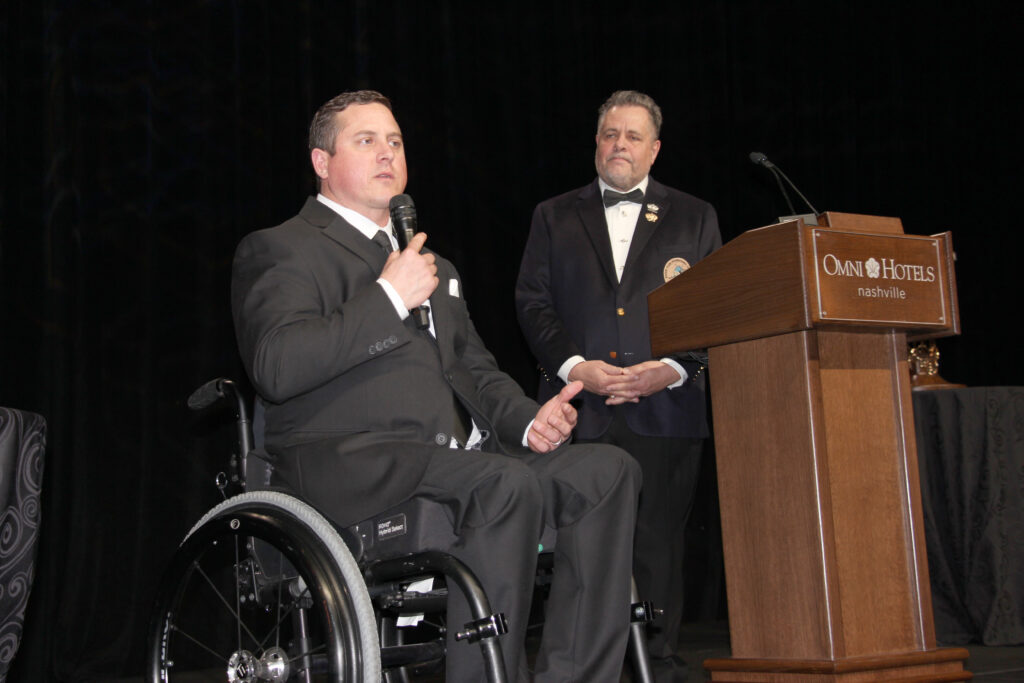 Pathfinder: A person who is faced with challenges in his/her life that causes him/her to find new ways to live and be engaged in outdoor events and projects.
Each year SCI Foundation and the Pathfinder Sub-Committee honor a special recipient who has faced challenges in life, causing them to adapt and find new ways to stay engaged in outdoor events and projects. This year, the SCIF Pathfinder Sub- Committee proudly recognized Dustin Berg at the 2023 Beretta Gala, at the 2023 SCI Convention, in Nashville, TN.
In 2003, while riding his motorcycle, Dustin was hit by a truck, breaking his back, wrist, eight ribs, and shoulder blade. Both lungs were also punctured. Because of the accident Dustin is a T-7 paraplegic. Through perseverance, and physical therapy Dustin was eventually able to get back to the outdoors and hunting. He made necessary hunting modifications that have led him to have multiple successful hunts to date. He is also the Founder and Executive Director of GO Limited, a non-profit organization providing adaptive hunting, fishing and therapeutic recreation opportunities for people with disabilities. Dustin's ability to persevere has made him truly worthy of the Pathfinder Award!
The 2023 Pathfinder Hunt has been proudly donated by Venator Cardrona, and because of their generous donation Dustin will get to hunt a New Zealand Red Stag 500-550 SCI. The SCIF Pathfinder Sub -Committee thanks Venator Cardrona for their donation and this once in a lifetime hunt!