2018 Pathfinder Award Winner – Cory McGregor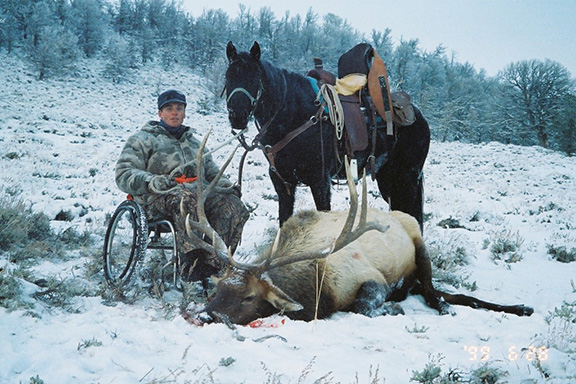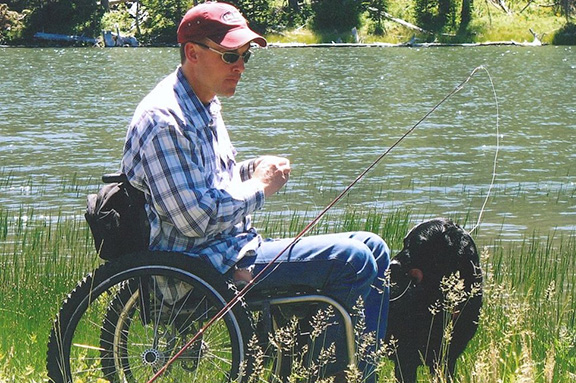 Corey McGregor was an active hunter when in May of 2001 he was injured in a single vehicle rollover on a backcountry road near his parent's home in Clark, Wyoming. He was ejected from the truck resulting in fractured vertebrae at C5, C6, L4, and T0 and T10, where his spinal cord was also severed. He completed his rehabilitation in July of 2001, and that fall was back to hunting.
Corey helped co-found Wyoming Disabled Hunters (WDH) in 2008 helping disabled hunters to enjoy an affordable hunt and organizes opportunities for disabled hunters to reaffirm their ability to provide for their family while building friendships with other motivated people. Corey continues to lead in the role of president with the support of ten board members.
Countless disabled hunters have benefited from Corey's organizational and hunt coordinator efforts. Over and over, hunters talk about Corey's endless energy and abilities that overcome his paralysis as an inspiration. Corey is in constant motion with one project or another. Many of these projects, such as cutting and splitting wood, running heavy equipment, and farming for his in-laws, are not typical projects for a paralyzed person.
Corey serves as an advocate to the public for the Americans with Disabilities Act (ADA). He helps to educate contractors, business owners, and city councils regarding the requirements of the ADA and the needs of disabled customers. Corey is also involved in supporting the National AgrAbility Project which assists farmers, ranchers and other agricultural workers living with a disability.
Corey's own independence spills over to help him teach other disabled friends and consumers that disability is no barrier at all, if you are willing to climb!
Since 2000, SCI Foundation has provided more than $80 million to promote science-based conservation through wildlife research, capacity building in governments, youth and teacher education, and humanitarian programs that show the importance of the hunting community in society around the world. Growth of SCI Foundation has continued to gain momentum through charitable donations from SCI members and direct grants from local chapters and the SCI organization. Throughout the world, SCI's approximately 50,000 members and 190 chapters contribute time, talent, and financial support to local, national, and international projects.