2018 Pathfinder Auction Hunt Winner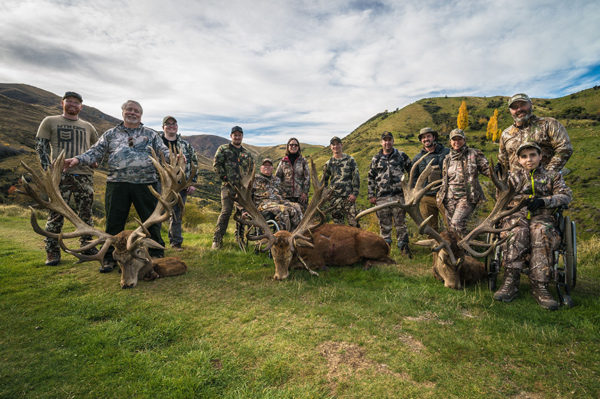 Watch this amazing video of Chip and Robin's Pathfinder Hunt generously provided by Venator Cardrona Safaris
At the 2017 SCI Convention, Tom Steinbauer from Nevada purchased the Pathfinder Auction Hunt donated by Duncan Fraser, who lives in Wanaka, New Zealand. This hunt for trophy red stag included Tom and two lucky Pathfinders; Chip Madren from Atlanta, Georgia, and myself, Robin Clark from Charlottesville, Virginia. Chip and I were the lucky recipients.
After arriving at the Mountain Lodge on Sunday and enjoying the first of many delicious meals, we were off to check zero on our rifles. On Monday morning, we headed to the beautiful mountains outside of Cardrona before daylight. All three hunting parties boarded Kawasaki Mules, parted ways, and began climbing the mountain trails to glass the steep hillsides. Everyone saw stags early in the day but there wasn't an opportunity to take a shot or the stags were too small to harvest. By mid-morning, twenty-one year-old Chip, led by his guide Marcus and accompanied by his parents Ken and Lea, was the first to have an opportunity at a stag and took the shot.
Later, while glassing from a mountaintop, me and my partner Julie, along with our guides Sean and Zim, spotted a huge stag 800 yards down the ridge. We radioed Tom and his guide Sam, with the location. Twenty minutes later they crept into range and Tom had the 631" beast on the ground with a single round. We met up to help Tom carry his stag out of the steep terrain. After loading up, we headed out for lunch.
Halfway down the mountain, on the opposite side was spotted a nice stag 350 yards off and it was my turn. After moving in to 220 yards and getting set up in my wheelchair-mounted gun rest, I settled the crosshairs of the Blaser 300 Win. Mag. on the shoulder of this trophy stag. As the stag quartered away, I took the shot and the brut dropped after 30 yards. After another steep downhill decent, we gathered for pictures with the first trophies of the hunt. What a great first morning in the mountains of New Zealand!
The remainder of the week was just as exciting as the we harvested fallow deer, Himalayan Tahr and Tom scored a massive 420" elk! Thanks to Tom Steinbauer for providing us with this trophy hunting adventure, and to Duncan Fraser and his entire crew of Cardrona Safaris for this exceptional hunting experience.
I also want to thank the Humanitarian Services Committee, as well as the other donors who made this entire experience possible for us. We have incredible memories of our time in New Zealand. The majestic red stag will be the centerpiece of a wonderful reminder of this hunting trip where Chip and I received the recognition for our inspirational work with other disabled individuals.
The SCIF Pathfinder Program also provides funding to SCI Chapters in support of their activities that engage disabled, terminally ill, wounded military and veterans in outdoors activities. Often, the reintroduction to nature and hunting helps these individuals adapt to the challenges they face in life and enable them to help others find their way. Going on this hunt just reinforces how generous organizations like SCIF and donors like Duncan Fraser are to give me this once-in-a-lifetime experience. Thank you.
Since 2000, SCI Foundation has provided more than $80 million to promote science-based conservation through wildlife research, capacity building in governments, youth and teacher education, and humanitarian programs that show the importance of the hunting community in society around the world. Growth of SCI Foundation has continued to gain momentum through charitable donations from SCI members and direct grants from local chapters and the SCI organization. Throughout the world, SCI's approximately 50,000 members and 190 chapters contribute time, talent, and financial support to local, national, and international projects.