2017 Pathfinder Award Winner – Matt Cole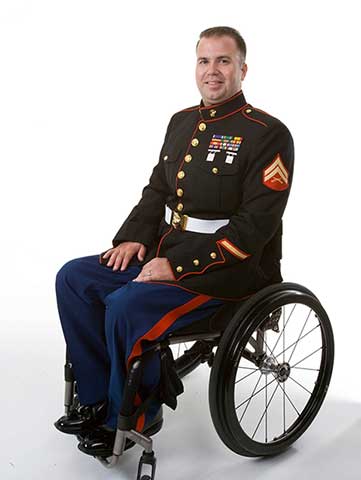 Matt Cole served in the Marine Corps from 1999 to 2006 with a combined 4 years of active duty and 2 years reserve. He was a Crew chief of an Amphibious Assault Vehicle, commonly known as an "AMTRAK". On May 17th 2005, while on his second tour in Iraq, Matt was wounded in action resulting in a spinal cord injury at T-8. After rehabilitation, Matt returned home to Louisiana and was medically retired in 2006.
Matt then began helping other disabled veterans by volunteering with Support our War Heroes Foundation, which aids severely injured Post 9/11 veterans through advocacy and financial assistance as well as honoring those who were killed in action and Wounded War Heroes of America, which helps heal disabled combat veterans mentally and physically through outdoor recreational activities. In addition to volunteering, Matt worked for the Louisiana Dept. of Veterans Affairs as a Veterans Assistance Counselor.
Matt's work with nonprofit foundations and as a veterans service officer earned him Louisiana Veteran of the Year in 2012, the 2013 Southeast Louisiana VSO of the year and 2013 ACTIVE Partnership Disabled Employee of the year. He has also received awards and recognition from the American Legion and Vietnam Veterans of America. In addition to helping veterans, Matt serves as a Deacon at his church and regularly speaks at schools and community events. Matt enjoys hunting, fishing, marksmanship activities and spending time with his wife and three kids.
Since 2000, SCI Foundation has provided more than $80 million to promote science-based conservation through wildlife research, capacity building in governments, youth and teacher education, and humanitarian programs that show the importance of the hunting community in society around the world. Growth of SCI Foundation has continued to gain momentum through charitable donations from SCI members and direct grants from local chapters and the SCI organization. Throughout the world, SCI's approximately 50,000 members and 190 chapters contribute time, talent, and financial support to local, national, and international projects.